In this article…
What is business process automation (BPA)?
Business process automation (BPA) is the process of automating complex functions (beyond traditional data collection and record-keeping activities) with the help of digital technologies.
Business process automation is not the same thing as case management. (Case management deals more with a group of processes, and therefore is much more complex. Cases typically involve multiple people and/or departments.)
Organizations implement workflow automation solutions such as Intelligent BPM and Business Rules Engines to enable accurate data reporting, improve accountability, identify and eliminate inefficiencies, streamline communication, and reduce operational costs.
The market size of the global Business Process Automation (BPA) industry was approximately $9.8 billion in 2020. It is forecasted to grow at an annualized rate of 12.2% and reach $19.6 billion by 2026.
In this article, we will cover the advantages of BPA and highlight its use cases in areas such as logistics, education, bookkeeping, human resources management, finance, contracts management, and more.
What kind of tasks and processes should be automated?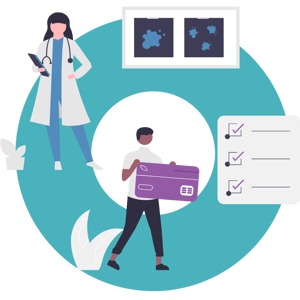 Did you know that employees waste 22% of their productive time on repetitive tasks and wasteful procedures? As such, every organization should aim to increase operational efficiencies by eliminating wasteful procedures and practices. One way to do this is through business process automation and business process management (BPM).
BPM software helps organizations achieve optimal performance by automating very specific processes such as:
High-volume, repetitive tasks that involve the same steps
Tasks that require multiple people
Back office workflows
Time-sensitive tasks
Compliance and audit trails
Scheduled tasks which occur at the same time on the same day each week
Employee onboarding
Purchase orders, accounts payables, and bill payments
IT services desk support
Marketing automation across multiple promotional channels
Sales activities like lead qualification, prospecting, and funnel creation
To learn more about how to prioritize process automation projects, you can view our guide here.
Business process automation use cases and examples
Business owners may not have an idea of what processes and workflows they can automate at the workplace. Because of this, businesses often postpone adopting business automation platforms and end up wasting millions of dollars due to repetitive processes, low employee productivity, and poor compliance.
The BPA use cases and examples below can help determine how automation efforts can improve operational efficiency and provide a competitive advantage:
Human resources
The manual HR process is likely to result in an unpleasant experience for new employees. It may also lead to excessive paperwork for the HR team, inconsistencies in the hiring process, and a low employee retention rate. In fact, 36% of HR leaders feel that the lack of automation is the reason for their inability to better organize the onboarding process.
BPA empowers the organization to automate paperwork, map the employee onboarding journey, meet compliance standards, and so much more. BPA also makes it easier for HR teams to enroll benefits and assign key performance indicators (KPIs).
A few human resource management (HRM) functions that BPA can automate are:
Hiring
Onboarding
Training
Leaves management
Performance management
Legal and contracts management
Legal and contracts management comprises all legal tasks related to the management of contracts. A few vital tasks involved in the process of contract management are drafting contracts, preparing bids, processing claims, monitoring contract performance, and managing change requests.
BPA enables organizations to create a central repository of contracts with a search function, automate contract drafting, send reminders to relevant teams about contract deadlines or renewals, automate approvals with e-signatures, meet compliance, create touchless contracts with fully-executed NDAs, and build conditional workflows.
Some legal and contract management tasks that BPA can automate are:
Procurement and supplier management
Contract management
Contract compliance
Audit trails
Financial
Typically, finance-related tasks rely heavily on manual, repetitive, and time-consuming activities. Most finance tasks include invoice processing, financial data recording or reconciliation, budgeting, and financial projections, and more. These tasks are prime candidates for automation because of their highly-structured and rule-based nature.
BPA automates these rule-based finance functions to reduce the likelihood of errors and fraud, achieve greater efficiency, meet compliance, and save time. It's projected that organizations can automate 42% of the financial department's work with the help of automation technologies like BPA and RPA (Robotic Process Automation).
Some finance-related tasks that BPA can automate are:
Purchase orders
Accounts payables
Financial reporting
Payroll processing
Invoicing and accounts receivables
Tax compliance and reporting
Data aggregation and bookkeeping
Improper data aggregation is the reason why accounting teams struggle with financial close and consolidation. Due to this, accounting teams have been failing to provide critical decision-making inputs to business owners. It also forces accounting teams to spend more time on mechanical data and manual financial consolidation adjustments.
BPA enables organizations to automatically update and approve journal entries, conduct audit trials, create financial close checklists, match transactions with general ledger, compare account balances against sources to identify discrepancies, and give automated alerts on uncollected invoices.
Some data aggregation and bookkeeping tasks that BPA can automate are:
Journal entries
Basic data entry
Bank reconciliations
Expense management
Credit control
Risk management
Education
27% of tasks in educational services can be automated with the help of existing technologies like business process management (BPM), Artificial Intelligence (AI), and Robotic Process Automation (RPA).
BPA helps educational institutions transform from paper-based procedures to electronic procedures. It eliminates the hassle for students to visit the college premises multiple times to enroll in courses. Automation streamlines the process of student enrollment and engagement.
Some tasks that BPA can automate in the educational services industry are:
Student enrollment and course registration
Immigration compliance for international students
Logistics and shipping
Automation has become a common trend in the logistics and shipping industry. As business trends and demands evolved, organizations in manufacturing industries quickly learned that they cannot survive without an efficient logistics department and automated processes.
BPA software enables logistics and shipping companies to reduce inventory costs, eliminate the scope for costly errors, meet compliance standards, access real-time freight data analysis, improve stock visibility, and manage the distribution.
Some logistics and shipping processes that BPA can automate are:
Lead management
Inventory tracking
Shipment scheduling and tracking
Why are businesses turning to BPA? Benefits and advantages
Gartner predicts that businesses will adopt at least 3 out of 20 process-agnostic types of software by 2024 to enable hyper-automation. Why?
It's because any medium- to large-scale business can greatly benefit from implementing no-code BPA technologies. To name a few, businesses can streamline processes, reduce human errors, save time and money, and improve customer service.
Let's review a few more of the key benefits to BPA below.
Streamlined and standardized processes
The primary role of BPA is to streamline and standardize complex and repeatable tasks. It enables organizations to develop a set of rules to complete each task and create a workflow that does not require human intervention.
Automation helps employees spend their quality time on tasks that improve organizational productivity. According to McKinsey, streamlining and standardizing processes through automation can increase productivity by 1.4% on a global basis annually. Further, BPA significantly contributes to overall business process improvement.
Compliance records
BPA helps businesses create automated reporting and documentation procedures that meet compliance regulations like Health Insurance Portability and Accountability Act (HIPAA), Employee Retirement Income Security Act (ERISA), and The General Data Protection Regulation (GDPR).
For instance, employee benefits compliance is one of the major concerns for organizations. Employee benefit laws like HIPAA and ERISA want organizations to roll out employee benefit plans and maintain records of the same.
A BPM streamlines the employee benefits process and maintains its compliance records impeccably. It simplifies the complex process of collecting eligible employee data, gathering signatures, and generating approvals while processing employee benefits.
Transparency between teams and stakeholders
BPA increases visibility and accountability within organizations. It creates a workflow that all authorized professionals can track.
Likewise, automated workflows may also help an internal auditor assess whether the project team has followed a set of standards, policies, and regulations while executing an operational activity or not with a single mouse click.
Eliminate costly errors
Did you know that the Citigroup credit department accidentally sent $500 million to Revlon's lenders by mistake? This was a severe human error that could have been avoided if automation tools were in place.
The implementation of automation technologies makes organizations less vulnerable to clerical and reporting errors that cost millions and millions of dollars.
Improved customer service
Customer engagement is the key to an increased customer satisfaction rate. BPA allows businesses to streamline activities like customer engagement, customer support, and customer experience through automated social media, automated emails, and automated service interactions.
For instance, a Social BPM can create a workflow that sends an automated alert or trigger when a customer makes a complaint on a social media platform like Twitter or Facebook.
Choosing the right BPA solution for your business
Choosing the right business process automation software that is more powerful than a traditional ERP or CRM can be challenging. However, you can choose a suitable BPA solution by analyzing if it meets the expectations in the following parameters:
User experience: It involves analyzing the ease of use and efficiency of the solution. How friendly is the user interface? How smooth is the interaction between the user and the software?
Artificial intelligence: How much human involvement is required while executing complex tasks? After all, you are purchasing the BPA solution to reduce user intervention. Choose a BPA solution that is powered by artificial intelligence and machine learning.
Integrations: BPA platforms should facilitate API integration between existing software and solutions at the workplace for better efficiency.
Flexible deployment: Make sure that the BPA vendor offers flexible deployment options. The flexibility allows you to deploy the application on your premises or third-party cloud infrastructure based on your preference and requirement.
Low code development: Coding can be a hassle and complex. With low-code applications, you can customize and quickly adapt the applications in response to the fast-changing business environments.
Mobile use: 60% of employees use mobile apps for work-related activities. If the BPM solution is not mobile-friendly, it would not make tasks and to-do lists available for employees on the go.
BPA solutions can boost the productivity of workplaces. They can save millions of dollars to businesses by standardizing workflows in areas like accounting, finance, human resources, contracts management, and logistics. They can also help eliminate costly errors and improve the quality of customer service. Ensure you choose a low-code and user-friendly AI-enabled BPM software.
Ready to learn more about how digital transformation powered by business process automation tools can streamline your complex processes and increase the efficiency of business operations?