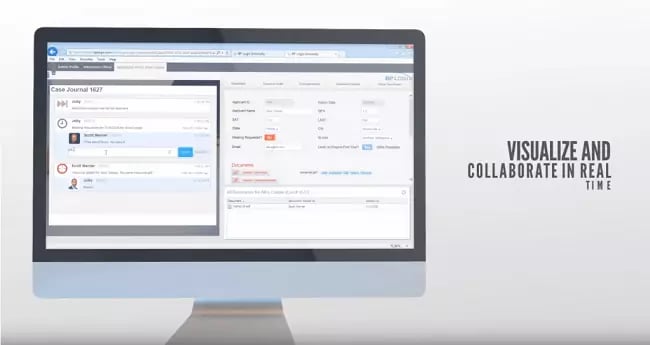 All organizations want to increase efficiency and operate at an optimal level with business process management (BPM). BPM Software, smart forms and workflow software help to create a business environment that is highly responsive, accountable, and compliant. Process Director BPM software (BPMS) provides the BPM tools required to automate all your business processes and improve your results.
Why Choose a BPMS (BPM Software) Solution?​
We all want more time and money. Businesses are no different. Business process management software (BPMS) setup takes some investment initially, but in the end, the benefits of intelligent BPM software are vast, not to mention measurable. Below are some reasons why organizations turn to Process Director BPMS software solutions:
Integrated Business Rules Engine: Process Director's business rules engine uses advanced machine learning algorithms to empower users to rapidly implement better workflow and more complex business processes.
No Programming: 100% web-based GUI workflow builder for business users on a bpm software foundation—no programming required.
Web-Based Smart Forms: A faster, easier and more cost effective way to create an automated electronic forms system.
Reporting and Process Intelligence: Process Director business process management software offers a variety of searching, reporting, business activity management (BAM), and process intelligence (BI) features.
Process Director is an Award Winning Business Process Management Software Solution

Process Director BPM software is a low code / no code BPM platform that has won many BPM awards for innovation and excellence, both domestically and abroad. Our most valued recognitions, however, come from our customers who have achieved goals beyond those they had originally imagined through their partnership with us.

Process Director offers benefits around business process management including:
Unsurpassed ease of use
Rapid time-to-value
No programming
Key Benefits of Process Director BPM Software (BPMS) and Workflow Software Solutions
Transparency: It can be difficult for senior business leaders to gain a comfort level with the various hardware and software "black boxes" deployed by IT. Process Director business process management software and workflow tools bridge that gap offering a solution that is fully customizable and extensible, and yet does not require programmers.
Efficiency: If business process improvement (BPI) is important to a business—and in today's world, it needs to be—then automation and metrics are a core requirement. Process Director business process management software measures the performance of each activity within a given process; as the process is executed over time, Process Director learns how its actual timeline varies from the original forecast. This unique capability, called predictive analysis, alerts process owners that upcoming activities may not complete on time, even before those activities have started.
ROI: In any growing organization, the number of homegrown and off-the-shelf solutions accumulates pretty rapidly. Each one brings with it another team, another vendor, maintenance, updates, infrastructure, and training. Process Director BPM implementation gives the CIO the opportunity to start replacing those one-trick-pony products with a flexible, customizable BPM tools addressing a huge variety of business needs in operations, finance, HR, IT, sales, and other areas. Fewer vendors, less maintenance, reduced training costs, smaller infrastructure.
Improves Business Process Governance and Compliance: Improved process control, auditing, and monitoring help organizations to demonstrate business process governance and compliance. Replacing manual, paper-based processes with Process Director that offers a unique deployment for BPM compliance solutions such as automated, electronic forms and processes is an effective way to ensure users are in compliance.
Business Process Management Software Examples
Read specific BPM examples of how organizations use BP Logix's customizable BPM software, Process Director, as their BPM solution. To start, check out City of West Allis and Columbus Technical College and see how these busy organizations used Process Director BPMS successfully to create process efficiency.
Automating Manual Processes

"It was taking us a phenomenal amount of time to research email archives and updated versions of spreadsheets. Manual processes were killing us in terms of productivity."

-Bill Kahlert

Solutions Director, Global IT Firm