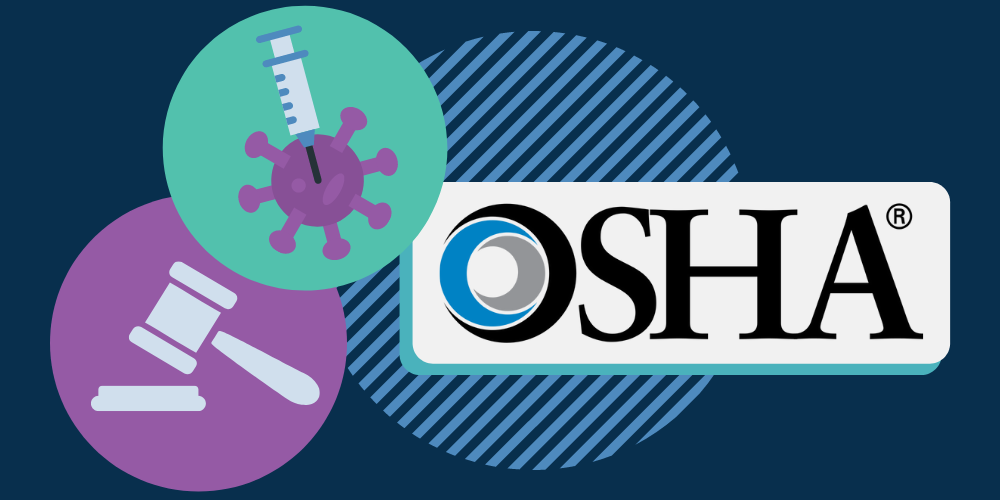 The Fifth Circuit Court of Appeals issued a ruling on Nov. 12 that blocks the Occupational Safety and Health Administration (OSHA) from enforcing its Emergency Temporary Standard (ETS) on COVID-19 Vaccination and Testing.
In the ruling, the Fifth Circuit argued that the ETS "exceeds the bounds of OSHA's statutory authority."
Under the ETS, employers with 100 or more employees would be responsible for:
Implementing and enforcing a workplace vaccination policy that either (a) requires mandatory vaccinations, or (b) allows employees to choose between vaccination or weekly COVID-19 testing.

Providing information to employees about the ETS,

COVID-19 vaccines

, and workplace vaccination policy.

Determining the vaccination status of all employees, obtaining valid proof of vaccination or weekly test results, and maintaining vaccination records to ensure compliance.

Reporting work-related COVID-19 fatalities and hospitalizations to OSHA.
In response to the court order, OSHA issued the following statement:
"While OSHA remains confident in its authority to protect workers in emergencies, OSHA has suspended activities related to the implementation and enforcement of the ETS pending future developments in the litigation."
What employers need to know
Enforcement of OSHA's ETS was slated to begin on Dec. 5, so this recent ruling poses some interesting questions for employers that are currently exploring their options for employee vaccination tracking. Here are six key questions employers should be asking about Fifth Circuit's recent ruling on OSHA ETS.
1. Under the Fifth Circuit's ruling, are employers still required to comply with the ETS? Can OSHA conduct audits or issue fines for non-compliance? 
The Fifth Circuit's ruling functionally puts the ETS on a nationwide pause. While the ruling remains in effect, the federal government is prohibited from taking action to enforce the ETS. This means OSHA cannot conduct audits or issue fines until a decision is made.
Although the ETS has been blocked, it's important to note that the Fifth Circuit's order is a temporary measure intended to maintain the status quo while appeals are pending.
Because multiple parties have filed challenges to the ETS in multiple circuits, a consolidation proceeding known as a multi-circuit lottery will take place on November 16. This means the case may be transferred out of the Fifth Circuit before the court has a chance to issue a final ruling. Further, the federal government has the option of asking the US Supreme Court to dissolve this temporary stay.
2. How long will it take to reach a final decision on this matter in the Court of Appeals or at the Supreme Court level?
A final ruling from the Court of Appeals may take several weeks. It is also possible that the federal government will ask the US Supreme Court to dissolve this temporary stay. The Supreme Court could take much longer and if they were involved it would likely take place in Q1 2021.
3. What is the likelihood that OSHA's ETS will be diluted as a result of the legal challenges?
OSHA has the power to update and adopt new language to the original ETS. This power is intended to account for unconsidered items (e.g. booster shots), but it could also be used to make other changes, such as expanding the scope of exceptions or allowing additional time to meet the mandates.
However, it is unlikely that these changes would occur while challenges are pending. As part of its rulemaking procedures, OSHA is currently accepting comments, which the agency would take into consideration when finalizing a permanent standard.
4. If the Federal ruling is blocked, can states issue their own vaccine mandates for employers? 
Yes, states can and likely will issue their own vaccination mandates for employers.
When OSHA enacts a federal-level emergency temporary standard, states are required to either (a) amend their standards to be identical or "at least as effective as" OSHA's new standard, or (b) demonstrate that their existing standard is "at least as effective" as the federal government's new standard.
However, some states may go a step further by adopting standards with even greater levels of protection and efficacy than what is required by OSHA.
5. If the federal mandate holds up in the courts, how will OSHA enforce the mandate on such a large scale? 
OSHA has authority to review and determine non-compliance to the ETS mandate. They will likely focus their initial investigations on organizations that have willfully ignored the ETS. We also expect to see OSHA compliance investigations based on employee complaints about employer noncompliance.
6. Under the Fifth Circuit's ruling, do employers still need to comply with the Centers for Medicare and Medicaid Services' (CMS) interim final rule for healthcare workers and President Biden's Executive Order 14042 on mandatory vaccinations for federal contractors?
The Fifth Circuit ruling has no impact on these rules. Employers should continue to adhere to these requirements as applicable.