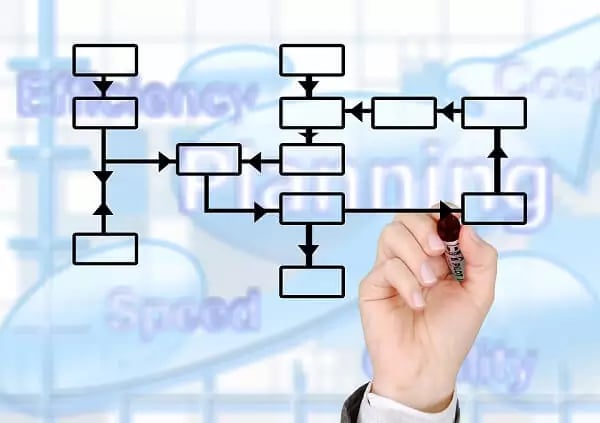 What is Business Process Improvement?
What is BPI, you ask? Business process improvement is defined as a collection of methodologies that proactively identify, analyze, and improve on standards and processes in place at an organization. After BPM implementation, results can be identified by looking at increased productivity, customer satisfaction, product quality, and many other measurable metrics.
Business processes are unpredictable. Time to execution, costs, and deliverability are just a few ways that your processes, or lack thereof, could do more damage than good to the organization's bottom line.
That's why business process improvement is critical. It's an ongoing endeavor that takes attention and finesse. Of course, some process efficiency could be done manually, but if your goal is increased return on investment, profitability, and ease, then business process management (BPM) software that offers business process automation solutions is likely the game-changer you seek.
Examples of process improvement include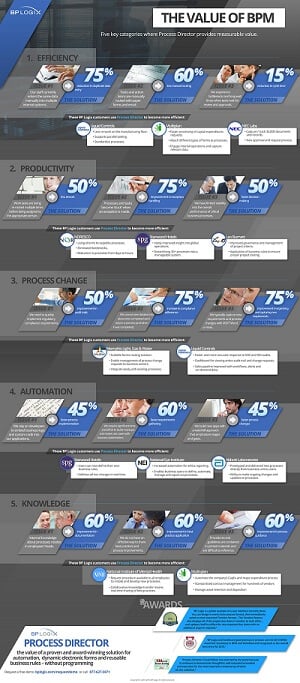 An auto manufacturer systematizes a set of manufacturing processes to streamline workflow and eliminate redundancies
A research company creates a visual tracking system to minimize delays
A gas company implements an electronic authentication and signature process to stay in accordance with rules and regulations easily
A university digitizes 80+ documents and now uses keyword search and electronic review and approval to get work done quicker
Why Business Process Improvement (BPI) Matters to Your Organization
Think of business processes as critical building blocks. Done right, an effective and efficient business process will allow a company to remain viable in a competitive environment. While a process might not have a direct line to sales, there is clearly a connection.
If your business processes are wasteful or inefficient, your company will be left behind in the marketplace.
You may understand that business processes are integral to your success, but it's also important you understand that continuous business process improvement is important, too. Change is a constant and you must be agile.
Any of these workplace shifts ring true for your organization?
Evolving mobile technology
Advancing laws and industry best practices
Business growth or downsizing due to mergers, acquisitions, new products/capabilities
Changing organizational leadership
Shifting values and goals as your employees mature
If you can relate and feel the pains these changes bring in a business, keep reading.
What is BPI To BP Logix?

What is BPI to BP Logix? We here at BP Logix think of the BPI definition a little more simply; it's all about timing. That's why BP Logix's BPM platform, Process Director, has a patented workflow engine, Process Timeline, that takes business process improvement up a notch with business process automation technology. By adding a visual timeline component, you and everyone on the team can easily see upcoming deadlines and plan for possible delays, if necessary. It's a time and money-saving tool for sure, but it also allows you to make wise decisions around your business processes as it relates to specific deliverables.

While a lot of BPM software will show you when you've missed a deadline, Process Timeline is a workflow timeline software uses its knowledge of your process execution history to automate and predict when each task is likely to complete, no matter how far in the future that task is scheduled to begin.
Request a Free Demonstration
Process Director is an agile BPM solution intended to help your organization grow and flex with internal and external changes that affect your business. Want to see for yourself? Contact us to learn more about our BPM solutions or request a free BPM software demo of Process Director today.