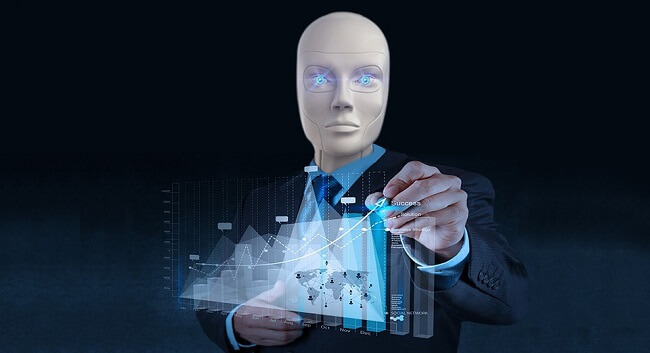 You might have been hearing whispers lately about how Process Director business process management software is enabling artificial intelligence. What was it that tipped you off? Was it the massive text on the front page of our website blaring "Process Director v5 – AI-Enabled Software for the Digital Enterprise"? Or maybe it was the new web content entitled "BPM and AI (Artificial Intelligence) Combined ". Yes, we should have known you would sleuth out that Process Director v5 will feature some pretty significant new features, not the least of which is a robust and practical AI (more accurately, machine learning) component.
For you evergreen students out there – while the term artificial intelligence has been bandied about within the BPM industry, nine times out of ten that discussion is not about a tiny man-made intellect that has just formed consciousness and will eventually destroy man-kind for its hubris. In actuality we are speaking of machine learning, the practical application side of artificial intelligence.
Process Director v5
The key takeaway here is practical. As popular as the terms AI or machine learning are, they don't do you an ounce of good unless they directly translate into increased accuracy, depth, and speed in your cases, predictions, and processes. Machine learning should help you solve your problems and Process Director v5 will do just that, whether you are a lone citizen developer or have an army of data scientists at your beck and call. Our position as an award-winning, highly-scalable and rapidly deployable low-code BPM platform will only be enhanced by these powerful new additions.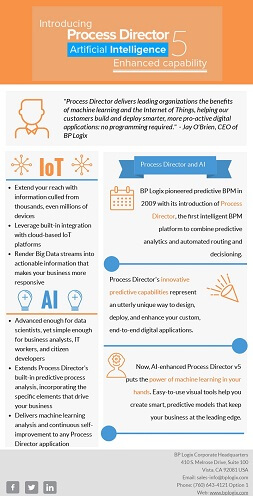 Now you are ready to hear more. Now you want ALL the deets. To which I say, call or email our sales team (who are very nice, real people and not a matrix of BP Logix-build algorithmic logic sets). They will get the ball rolling on giving you the latest information as it comes in, including Process Director v5 teasers, upcoming demos, and of course the date of our formal launch (which is coming up fast).
We are buzzing here at BP Logix with what Process Director v5 will mean for our customers: practical, powerful machine-learning driven results for your digital transformation goals. Follow the links below to discover more.
Schedule a Free Demo
Process Director sets the pace for your digital transformation. Schedule a free demonstration of Process Director and discover for yourself how this unique BPM platform empowers you to innovate, respond to market demands, and delight your customers. Or, contact us to learn more about how our business process management and digital transformation solutions have helped our customers conquer their digital challenges.