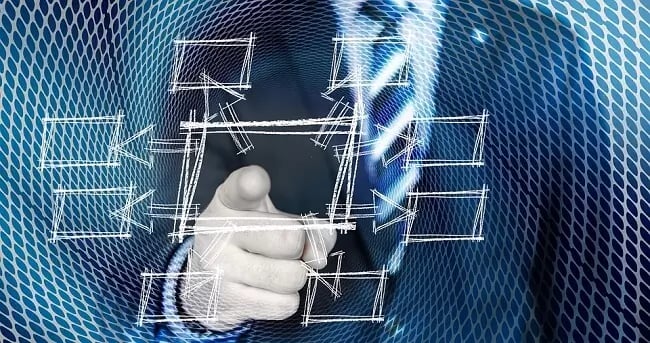 Process Director Workflow Software Solutions
As an advanced business process management (BPM) software solution, Process Director BPM software includes workflow software that contains powerful workflow solutions designed to automate workflow processes within your organization, continuously evaluating and improving them over time.
Try it for Yourself – Request a Free Demonstration Now
---
Workflow Solutions Include:
---
Two Powerful Workflow Modeling Solutions

Process Director is the only workflow solution to offer you two powerful models for building and executing your business workflows: a traditional flowchart model, and the patented Process Timeline software. Process Timeline is a workflow timeline with workflow automation technology that creates easily modifiable, highly parallel, and exquisitely time-aware workflow processes. Additionally, you can combine legacy BPMN-style workflows and advanced workflow timelines to create rich, sophisticated processes that take advantage of the strengths of each model as needed. Process Director workflow software has many workflow tools to help your organization and listed below are some of the tools that Process Director has to offer:
Email Notifications
As your business process progresses, Process Director's workflow management software will send you custom notifications via email to process actors and others you specify. Notification features include:
Automated email reminders to let users know of tasks they need to complete
Custom email templates presenting exactly the right information at the right time
View and complete your tasks from within Microsoft Outlook
Email based approvals, even from your mobile device when working offline
Due Date Management
Time is critical to the execution and oversight of your workflow processes. Process Director's workflow software provides alerts for a variety of due date and time-related conditions. For example, you or your manager can be notified when a task is nearly due, or overdue.
But Process Director workflow software goes well beyond simple due date notifications. Thanks to the Process Timeline workflow engine, Process Director can automate workflow processes and notify you when an activity or task is predicted to be late. Process Director's workflow software is constantly assessing each running process instance to determine if any future activity is likely to be delayed, and can notify you or take some other action that you specify. No other workflow solutions can offer you this innovative, patented technology.
Sub-Workflows & Business Process Segments
Process Director's workflow solutions offers support for sub-workflows which provides an easier way to manage and automate workflow processes that are complex. Create sub-workflows whenever you want to modularize a given set of tasks into a component that is reusable by other workflow processes. In this way, workflows and sub-workflows can act like process templates, suitable for use in a variety of applications.
Workflow Task Lists
At the very heart of any business process management software or workflow software is the ability for a user to see at a glance what tasks are assigned to them. Process Director's customizable task lists present this information in any number of ways that help keep you organized and on top of your game.
Each task can have an assigned priority: always know what needs to be done first.
Group queues and pooled assignments enable you to maximize process efficiency, either by enabling users to self-assign tasks, or by automatically assigning each task to the person with the least number of incomplete tasks.
Customized task lists, powered by sorting and filtering capabilities, help you separate tasks into categories for easy identification.
Ad-hoc & Unstructured Processes
Not every process follows a pre-defined path. Process Director's workflow solutions gives you the power to create and automate workflow processes that move in any direction you require, based on user behavior, internal data, or external conditions. Ad hoc features of Process Director include:
Leverage business rules to drive dynamic task assignment
Invite a user to share (or take over) a task simply by forwarding an email, emulating the way users work today with email
Choose one or more users from a menu or pick list to invite or assign them to a task
Record your ad-hoc comments and discussion within the form using Process Director's comment feature, leaving you with an auditable record of the conversation
Conditional & Rule-based Routing
Workflow solutions aren't useful unless it can account for changing conditions and modify its behavior accordingly. Process Director's workflow solutions are equipped with a condition builder and encapsulated business rules that offer you the ability to build and automate workflow processes that are highly dynamic, assigning tasks and choosing process paths based on process data, external conditions, and user activities. The condition builder uses a simple point-and-click graphical user interface, enabling you to create complex conditions quickly. Process Director's business rules engine offers a way to encapsulate these conditions in named, reusable objects that can be utilized in any number of forms and workflow processes.
Human-centric, Machine-centric, Document-centric
Frequently, workflow software products are considered either "human-centric" or "machine-centric." Process Director does away with these distinctions by providing a comprehensive workflow solutions supporting human interaction, automated functions, and document management. As a result, you can easily automate workflow, making Process Director's enterprise workflow automation software a great choice for virtually any situation.
Request a Free Workflow Software Demo
Request a free demonstration and see how Process Director workflow solutions can help automate workflow processes within your organization. Discover for yourself how it's unique low-code and rapid application development software capabilities, sets the pace for digital transformation, empowering you with an unparalleled ability to innovate, respond to market demands, and delight your customers. Contact us with any questions you have regarding Process Director's BPM software and workflow software capabilities.