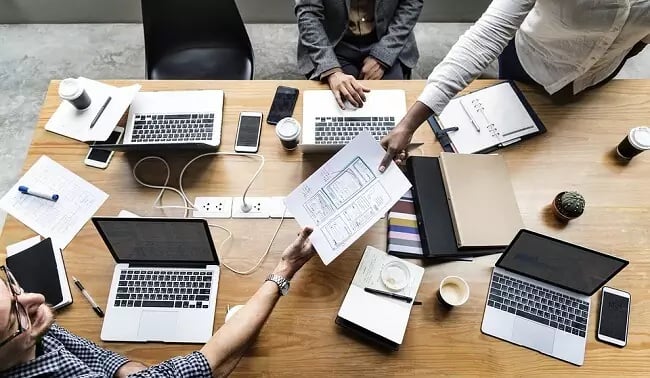 Rapid Application Development Software For Digital Innovation
Rapid application development software is driving a whole new approach to the deployment and operation of digital applications. Organizations are racing to take advantage of these low coded applications to enter new markets, attract new buyers, and retain their hard-won existing customers. In so doing, they are opening a new front in the digital wars; namely, transformation of the way that those very digital applications are created, deployed, and enhanced.
For applications to provide value to the enterprise, they must be extensible, usable and able to integrate with a changing IT environment. Yet, what is among the more critical aspects of application value is when apps can unite development and IT operations teams to quickly and efficiently adapt and grow in response to an organization's changing needs. Rapid app development software provides a path that enables businesses to use Process Director to deliver data and functionality through digital channels and across different platforms and form factors.
Process Director Rapid Application Development Software

Process Director is a BPM software solution that includes rapid application development software that responds to this urgent need by arming the business itself with the BPM and workflow tools it needs to rapidly build and deliver complete, end-to-end digital applications: without programmers and with low code or no code. As a result, Process Director equips the business to respond to the fast-paced, ever-changing needs of the marketplace.

This model puts those who are closest to business issues in a position to create solutions, and allows them to adapt and change these solutions over time. BPM software developed with rapid application development software capabilities is more usable and more effectively addresses business issues that are most relevant to business users.
Benefits of Process Director Rapid Application Development Software
Imagine your organization delivering its own rich digital applications, on any platform, before your competitors have laid down the first thousand lines of code.
Imagine saving millions on expensive technical staff, incompatible packaged applications, and maintenance of obsolete code.
Imagine providing straight-through processing and visibility all the way from your customers to your suppliers, while at all times guaranteeing compliance, accountability, and security.
Other Useful Features
Process Director has many other useful workflow management software features unique to BP Logix, most notably for the Process Timeline workflow engine and Process Director's electronic forms management software. Process Timeline includes a workflow automation technology that automates business processes. Charts and data are automatically updated as the process runs, which allows for accurate, up-to-date information to be viewed with ease.
Electronic forms software makes it possible to use only electronic forms throughout an entire company. The software connects the company to both suppliers and customers, so the handling of electronic documents goes smoothly. BP Logix BPM software makes handling even the most complex electronic forms a simple process that most any business user can handle.
Also, Process Director is an iBPMS solution that has been recognized in Gartner's Magic Quadrant for Intelligent Business Process Management Suites for several years in a row.
No Programmer? No Problem
If your goal is to deliver data digitally and fast then Process Director is the BPM solution for you. With Process Director rapid application development platform, you can focus on solving business issues instead of creating software to do so. BPM that relies on low code or no code is relevant to business users today. To learn more about Process Director's business process management capabilities, contact BP Logix today.