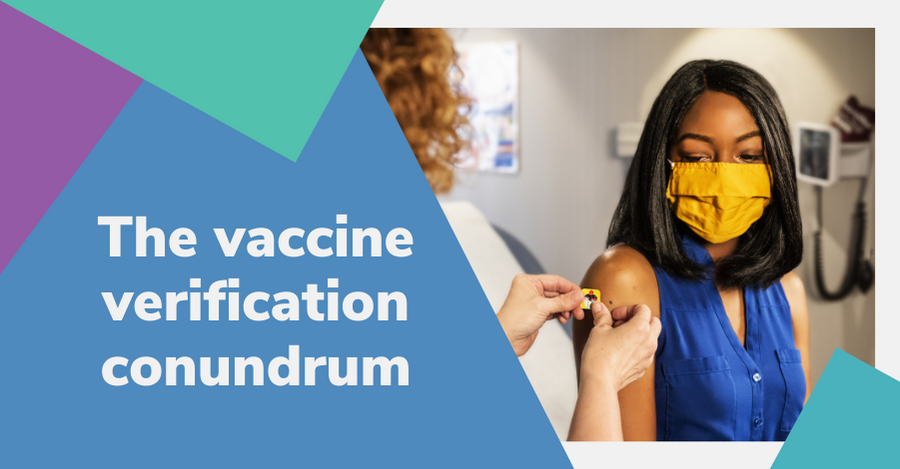 With "back to school" season in full swing and the recent FDA approval of the Pfizer COVID-19 vaccine on Aug. 23, several states around the country have announced vaccination mandates for K-12 school systems.
"We think this is the right thing to do and we think this is a sustainable way to keeping our schools open and to address the number one anxiety that parents like myself have for young children," Gov. Gavin Newsom said earlier this month while announcing California's new K-12 vaccine and testing mandate.
The vaccination mandates for schools are a bold step aimed at reducing the spread of the highly contagious delta variant, but logistical questions remain – how will the vaccine tracking process actually work?
In this article, we break down current statewide vaccination and testing mandates for K-12 schools and explain how BP Logix's new Vaccine Tracker app can help school officials implement and ensure compliance of these new mandates.
COVID-19 vaccine requirements for K-12 schools by state
Information last updated August 27, 2021.
California:

All workers at public and private K-12 schools must be fully vaccinated by Oct. 15 or undergo weekly COVID-19 testing.

Connecticut:

All workers in public and private preschools, K-12 schools, and childcare facilities must receive at least one dose of a COVID-19 vaccine by Sept. 27 or undergo weekly COVID-19 testing.

Illinois:

Teachers and staff at public preschool and K-12 schools as well as personnel and students at public colleges and universities must provide proof of vaccination by Sept. 5 or undergo weekly COVID-19 testing.

New Jersey:

Workers at public and private preschool programs and K-12 schools in New Jersey must be fully vaccinated by Oct. 18 or undergo weekly COVID-19 testing.

New Mexico:

All workers at public and private schools must be fully vaccinated or undergo weekly COVID-19 testing effective Aug. 23.

Oregon:

All teachers, educators, support staff, and volunteers at K-12 schools in Oregon

must be fully vaccinated by Oct. 18.

Washington:

All employees and contractors at public and private K-12 schools, higher education institutions, and childcare/early learning providers serving children from multiple households must be fully vaccinated or obtain a religious or medical exemption by Oct. 18. There is no test-out option.
The challenge for schools? Vaccine tracking logistics
Faced with these new requirements, school administrators are now tasked with finding and implementing a solution for verifying the vaccination status of employees in time to meet their state's deadlines.
Manually checking paper CDC record cards is not a feasible option when you're dealing with thousands of people, which is why finding a way to automate this process is critical.
Thankfully, K-12 schools seeking a solution can look to their higher education counterparts, who are already one step ahead in their search for a solution. In April, California's massive UC and Cal State university systems announced plans to require COVID-19 vaccinations for all students, faculty, and staff upon official FDA approval of the vaccines. At the time, the three COVID-19 vaccines were only available under emergency use authorization, but that didn't stopped universities from thinking pro-actively about technical solutions for eventually verifying vaccination status.
Tracking vaccinations with an app
In response to requests from our higher education customers, the team at BP Logix developed the Vaccine Tracker app to allow school administrators to simplify and automate the vaccination status tracking process for their employees and students.
With our app, school employees can easily and securely provide proof of their vaccination status, while administrators can manage enforcement and comply with mandates.
There are several reasons why educational institutions are turning to BP Logix's Vaccine Tracker app.
1. Rapid deployment
Faced with looming compliance deadlines, schools subject to statewide mandates must move quickly to establish and roll out a process for verifying COVID-19 vaccination status for their teachers and staff. The Vaccine Verification app can be customized and deployed in as a little as a few weeks.
2. Mobile-friendly and accessible
The trick to successfully verifying the vaccination records of thousands of people? Make it as easy and accessible as humanly possible. Vaccine Verification is a web-based app that streamlines the verification process for employees with a simple, intuitive form. It can be used on any device – from desktops to tablets and phones.
3. Simple system integration
One of the best parts about Vaccine Verification is that it easily integrates with your existing campus data sources, whether it's a student information system (SIS), a human resources information system (HRIS), or an enterprise resource planning (ERP) system. By linking up the app with your key systems of record, you can effortlessly authenticate users and streamline their user experience.
4. Compliance verification and exception handling
Vaccine Verification can do more than just verify vaccination information from immunized individuals. It can also handle exceptions for users that indicate they have not been vaccinated. You can pose additional questions or collect additional information required for your school to remain compliant with mandates.
5. Management reporting dashboards
The administrator view of the app offers a robust, customizable dashboard with a bird's eye view of your school's vaccination data, as well as actionable reporting, data drilldowns, and always-on audit tracking.
6. Customizable, flexible, scalable
The reality of living in a pandemic means that things change very quickly. While the COVID-19 vaccines are not yet authorized for children under 12 years old, that could change in a matter of months. Will schools have a plan ready should the K-12 vaccination mandate be extended include all children? That's just one example of why it's critical to choose solutions that can keep up with your changing needs and help you avoid technical debt.
Built using a powerful low-code platform called Process Director, the Vaccine Verification app is endlessly customizable and easily scaled. In fact, while the app was originally designed for use at educational institutions, the Vaccine Verification app can be customized to suit the specific needs of any number of workplaces.
Want to take our Vaccine Tracker for a spin?
Sign up for a 14-day demo.
Automate vaccine tracking and other critical campus processes
As a process automation partner to many higher education institutions across the country, BP Logix is well-versed in helping schools build solutions that automate their most complex or unique processes. In fact, our vaccine tracking app is just one component of a larger suite of apps geared to educational institutions.
---
Ready to transform and scale your school with BP Logix?