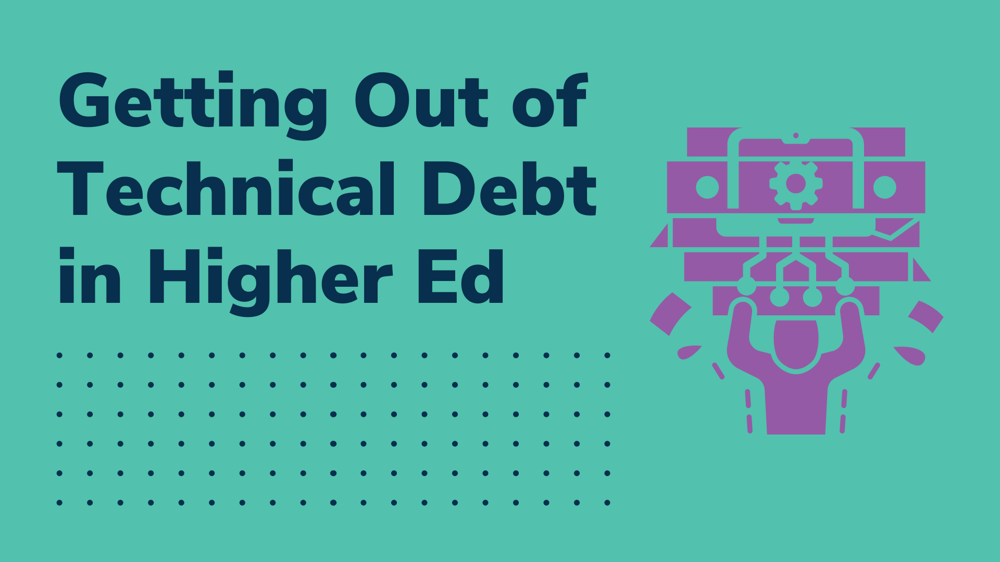 IT departments in colleges and universities haven't always faced the same level of pressure as businesses to keep up with the latest technology. But those expectations have rapidly changed as providing a modern student and faculty experience has become a key objective for many institutions. As time passes and systems continue to fall behind, it becomes more difficult to catch up, as entrenched systems become more difficult and costly to update or replace.
The pandemic has stressed schools' IT resources, as remote access has become more important than ever, adding to the pressure. Schools with outdated systems have been left in a critical situation.
Why higher education institutions have trouble keeping up
The gap between how an organization's systems are running, and where they should
be, is called "technical debt." Every organization that maintains software deals with the
issue. As with regular debt, the more an organization has, the more impossible it seems
to get out of it. Just maintaining existing systems becomes harder.
Traditional large-scale systems, like Student Information Systems or Enterprise Resource Planning (ERP), are massive systems with thousands of manual processes and traditional customizations that run the risk of becoming stale and outdated. Cut off from innovation, lacking automated governance, these systems have become a burden on every department with their ever increasing requirements for effort and ongoing customizations. This presents a huge barrier to innovation and introduces serious risk into any organization. It gets worse with time like quicksand, when organizations are reliant on legacy systems that get more and more outdated but are extremely difficult to move off of.
As the number and complexity of solutions grow, their usage can become siloed, and users who should be able to benefit from things like cross-departmental applications often get increasingly further away from the data and processes they need. This not only creates a poor return on technology investment, but it also kills efficiency efforts and prevents businesses from moving rapidly to deliver solutions.
Overcoming the technical debt challenge
How can educational institutions overcome these challenges and bring technical debt
down? It's an ongoing effort where several steps are necessary
Awareness of the issue. In the absence of a commitment to keep up, it's easy
not to think about the need for improvement. Academic IT operations need to
review what they have and how well it serves the students and faculty. Top
administrators need to keep this in mind and devote budgets to modernization.
A school-wide commitment to keeping up. Fragmentation of services makes it
hard for any office to catch up on its own. Resource sharing and elimination of
redundancy are key steps.
Pooling of knowledge. When departments and offices don't communicate, they
don't get the benefit of each other's knowledge, and they often create redundant
solutions to the same problem, or purchase off the shelf applications that don't integrate with the rest of the ecosystem.
Appetite for innovation. IT operations can get so wrapped up in the old methods that they aren't aware of the advantages new software and tools offer. They need to commit part of their effort to discovering what's available to help them modernize. Low-code software like BP Logix' Process Director is a great example of a modern solution that can solve many of Technical Debt's problems.

Automating educational operations
Institutions of higher education need to make the best use of limited resources. Systems
that require little or no custom coding help accomplish this. BP Logix Process Director,
Higher Education Edition, is designed to help educational institutions simplify their
business processes. They can reduce the use of paper forms and simplify workflow
designs. Developers can define rules to ensure that processes comply with campus
policies. Process Director's low-code approach lets non-programmers do much of the
work.
Overcoming technical debt isn't easy, but with committed support, the modernization of
campus IT resources is within reach.