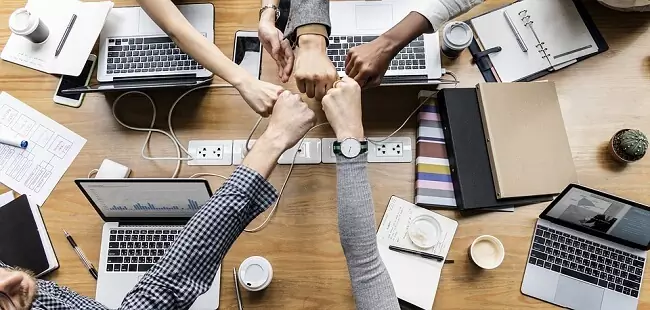 What is Business Process Management (BPM)?
Business process management (BPM) is the practice of refining business processes that will increase process efficiency and profitability using modeling, business process automation, measurement and optimization of business workflows.
Why is Business Process Management Important To Your Organization?
As business managers, we're expected to embrace − and manage − change in such a way that our businesses grow (and do so with the least amount of disruption.) Business process management (BPM) can play an important role here. And this is especially true in IT, as often the most noticeable changes are the result of changes in software technology which, in turn, bring about improvements in the way people work.
IT departments are faced with both managing change and improving productivity. When information flow is manual and paper-based, IT has an opportunity to accomplish both goals. There are many processes that are a part of the changes management wants to embrace that lend themselves to improving production and increasing productivity. Among them are:
Onboarding/offboarding and transferring employees
Ensuring access to applications and resources
Providing a secure approval process for processing requests
Coordinating requests across departments, facilities, vendors, and suppliers
Ordering and supplying software, hardware and equipment
Obsoleting or disposing of assets
Maintaining and accessing information for audits
The solution to these challenges resides with automating change control. Business process management software provides a consistent method for routing and tracking the flow of IT requests and information.
What is Business Process Management Software?
BPM software is software that enables organizations to improve process efficiency by monitoring, optimizing and automating their business process with data and analytics.
What Are the Benefits of BPM Software?
When you look at how business process management software and workflow software have helped companies achieve business process improvement, you may start to get eager to start reaping the benefits of BPM software and everything that comes with it such as improved process efficiency and productivity. Considering that companies are reporting a 75% reduction in data entry, and are 50% faster in making decisions is exciting.
How BP Logix Can Help

BP Logix offers Process Director, an innovative and powerful business process management software combining the power of BPM with the flexibility and leverage of rapid application development—with no programming. Workflow software and eforms are just the beginning of digital app development.

Process Director combines the easiest and most efficient business process management and digital process automation software in the industry with a rich set of workflow tools offering snap-in data integration, rapid prototyping and release, and comprehensive reporting and analytics.

Check out these BPM examples by industry to see how our customers in every sector are successfully using Process Director to prepare and deliver transparent, end-to-end digital applications offering engaging customer experience, robust business process governance, regulatory compliance and smooth, efficient operations.
What is iBPMS?
The evolution of BPM technology, like most technology, has happened quickly. Within the industry, we have seen great strides and early adopters have come along on that journey to see truly revolutionary advances. As more enterprises look to streamline business processes and build leaner, more efficient business models, so must BPM technology become more effective. Therefore, Gartner has recently introduced the concept of intelligent BPM (iBPMS).
Gartner defines iBPMS as platforms with "capabilities such as validation (process simulation, including "what if") and verification (logical compliance), optimization, and the ability to gain insight into process performance have been included in many BPMS offerings for several years. iBPMSs have added enhanced support for human collaboration such as integration with social media, mobile-enabled process tasks, streaming analytics and real-time decision management."
BP Logix's Process Director has been named to the Gartner Magic Quadrant for Intelligent Business Process Management Suites (iBPMS) for several years in a row.
What is BPMN?
In the year 2000, the Business Process Management Initiative, a group of individuals intent on promoting the concept of BPM, gathered together and created the 'Business Process Model and Notation', or BPMN. This tome, now over 500 pages, has been managed by the Object Management Group since 2004 and serves as the authority for Business Process Modeling Language (BPML) today.
Business Process Modeling (BPMN) vs Process Timeline

Process Timeline workflow engine is a business process modeling alternative that uses a newer modeling approach that is more advanced than any BPMN software. It is the executable model, not just a "view", that provides business process automation solutions like:
Continuous critical path analysis
Predictive triggers
Earliest possible notice of potential future delay
High efficiency
Intrinsic parallel behavior
Common Deployment Options
Mobile BPM – The ability to manage workflows and business process with mobile devices
Cloud BPM– Cloud based BPM solutions are now established ways of delivering and working with software and applications. Going this route saves on infrastructure investment.
Social – A strategic BPM tool that focuses on customer engagement, customer service and customer retention within your workflows connected to social media channels.
On-Premise – Allows organizations to keep all of their workflow systems in-house.
Choosing The Right BPM Software Vendor
Choosing the right business process management software vendor takes a lot of time and research. To help you with that process we came up with four elements organizations may want to consider in relation to selecting the right product and fit within your organization.
An Award-Winning Solution
BP Logix and Process Director have won BPM awards for innovation and excellence from many prestigious organizations, both domestically and abroad. Our most valued recognitions, however, come from our customers who have achieved goals beyond those they had originally imagined through their partnership with us.
Process Director BPM software offers:
Unsurpassed ease of use
Rapid time-to-value
No programming
Schedule A Demo
BP Logix makes innovative and intelligent BPM software that drives digital transformation in organizations across North America and around the globe. Process Director, the company's award-winning solution, is a powerful—yet easy to use—high-productivity, rapid application development platform for building, deploying, and enhancing digital applications. Contact us to talk to one of our software experts and schedule a demo today.