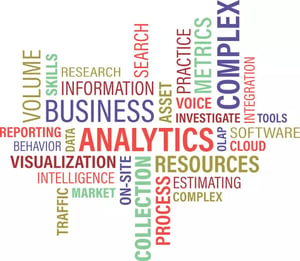 The evolution of the business process management (BPM) of old. Intelligent BPM or iBPMS, is about taking BPM software and incorporating new technologies, predictive analytics and process intelligence that businesses want, need, and demand to create organizational process efficiency. That's why top software companies are making BPMS more intelligent by including mobile and social technologies as well as incorporating more analytics and data.
"What if" process simulations and business process insights have been part of what business process management software offer, but intelligent BPM suites (iBPMS) add human collaboration and human intelligence. It allows for real-time decision management that goes beyond simply processing data and activating an automated response.
Intelligent BPM is found specifically in analytics, mobile, and social applications.
Analytics
Analytics create benchmarks in order to track and adjust. Data-driven decisions allow for more accuracy and help businesses make decisions based on fact rather than gut. This is particularly important for optimizing processes and providing predictive and/or responsive components for both workers and customers.
Mobile
Recent developments in mobile BPM technologies are allowing field employees, such as those in logistics and energy installations, to have better streamlined processes in order to create consistent, measurable, and efficient tasks.
Social
Social BPM tasks includes watching certain behaviors, particularly those by clients and potential clients, to determine what actions should be taken in order to provide a more effective and dynamic engagement.
"Tomorrow's business operations will integrate real-time intelligence," said Janelle Hill, vice president and distinguished analyst at Gartner. "This will require a new approach…" SOURCE: Gartner Says iBPMS are the next step for BPM Programs
All this leads to optimization of tasks, processes, and systems, while allowing more flexibility and human guidance to create truly intelligent business process management that assists you in not just in creating efficiencies but also better meeting customer demands.
Process Director, Your Intelligent BPM (iBPMS) Solution
BP Logix's Process Director low code / no code BPM solution has been recognized in the Gartner BPM Magic Quadrant for Intelligent Business Process Management Suites (iBPMS) for 3 years in a row that is because it integrates:
Composition of intelligent process-centric applications
Continuous Process Improvement (CPI)
Business transformation
Digitalized processes
Process Director intelligent BPM offers cloud based single-tenant and multi-tenant deployments, which provides flexibility for both small and robust business requirements. Because BP Logix Process Director gives key insights into each behavior of the process, it can take direct action.
For example, if a future task is in danger of running late, the system can notify the process owner. This way, the case manager or other responsible party can address the issue manually. Process Director BPM software is flexible, allowing ad hoc and improvisational tasks to be added to a process or dynamically linked via rules or established predecessors.
Process Director from BP Logix will empower your organization to do more and get better results all the while experiencing a more consistent and personalized user experience.
Ready to see for yourself? Contact us for a free Process Director demonstration from a BP Logix business process management expert.