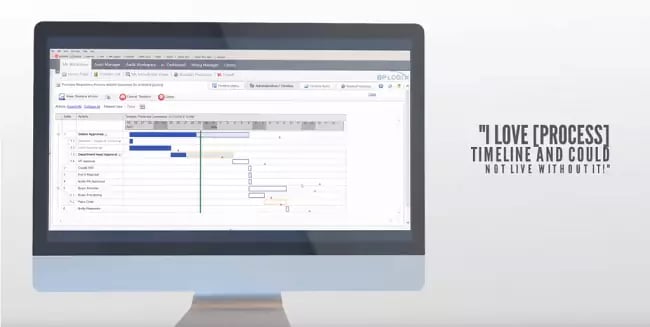 Accelerate Digital Transformation With Business Process Automation
In 2009, BP Logix introduced Process Director with its revolutionary Process Timeline, the first business process modeling and orchestration workflow engine to offer business process automation solutions through predictive analysis tied to automatic behaviors such as notification, reassignment, and rerouting. Process Director customers have taken advantage of this workflow engine and its intrinsic ability to provide the earliest possible notice that a future milestone or deadline may be at risk, and to take immediate remedial action.
Prediction Is Just the Start
This advanced workflow engine provides unique predictive/responsive business process automation capabilities that grow from fertile soil: a carefully architected, utterly unique way of thinking about the design and execution of sophisticated, end-to-end, low-code/no-code digital applications.
No flowcharts. No programming. Rapid time-to-value. Process Timeline is the perfect business process automation solution to speed your organization's digital transformation past the competition.
Process Timeline and Artificial Intelligence (AI)
Now, Process Timeline delivers the power of BPM and artificial intelligence (AI) to your enterprise applications. Process Director's machine learning (ML) technology enables you to customize both how predictions are made, and what response should be triggered, to a greater degree than ever before. Of course, like all of Process Director, the AI features are easy to configure and use by analysts and process owners—yet rich enough to be appreciated by data scientists.
Process Timeline and Process Director have received over 50 awards and recognitions, and that's part of the reason why organizations around the world continue to rely on Process Director for robust, compliant, and flexible digital solutions.
Process Timeline Features:
Process Timeline business process automation solutions are successfully being used by organizations in various industries to compose, manage, and modify business process. Key business process data such as process duration and critical path are available at a glance using a Gantt-style chart automatically produced and updated as your process is running. At the same time, it offers powerful business process modeling and business process automation solutions unmatched by any other BPM solution, including:
No Coding
Designed for business users, Process Director business process automation solutions enable you to build and deploy efficient, robust workflows and business processes, with no programming:
Build rich, complex applications through point-and-click
Intuitive graphical user interface facilitates rapid deployment and time-to-value
No Complex Flowcharts
Time is a critical component of any business process. Late activities—or activities that Process Timeline predicts will be late—are highlighted and easily identified. Time to completion for any activity or for the business process as a whole is also immediately available with this workflow engine. Traditional flowchart-style workflows simply cannot offer this level of insight into your business processes—insights that translate into business success:
MS Project-like builder: list tasks, dependencies
Automatically generates and updates a Gantt-style chart to show you, at a glance, how (and for how long) the process will run
No Surprises
Any workflow software can tell you when your task is due, or late. But only this workflow timeline software offers the earliest possible notification that some future task is predicted to be late. And it can do more than just notify you: this workflow engine can take direct action, escalating or rerouting activities to account for the predicted delay:
Business process automation solutions that continuously evaluate your business processes, based on past experience and current status
A key part of BPM technology that predicts when any future activity is likely to be delayed, offering the earliest possible opportunity for manual or automatic intervention
No Unnecessary Delays
Ideal for automating, tracking and reporting on complex processes, Process Director business process management software is perfect for "activity-based" processes with well-defined milestones. Unlike a traditional workflow system, its workflow engine features "implicit parallelism" modeling and execution. Process designers no longer have to explicitly identify which steps can be run in parallel, a time-consuming and error-prone analysis:
Every timeline activity will execute as soon as it is eligible to do so
At any given moment, every activity that can be running, is running
No Excuses For Business Process Improvement
As your business evolves, you will want to analyze the performance of your business process (and your process actors), to find ways for business process improvement to make it even more efficient:
A workflow engine with business process automation technology that records every action taken by every process participant (human or automated), ensuring total accountability
Includes BPM technology that points you directly at those activities within your process that are consuming the most time, so you can quickly focus your process improvement efforts where they will have the most impact
Drill down to review historical information about any activity, or to see how different actors have performed within a given task
Reset analytics at any time to get a fresh perspective
Schedule a Free Software Demonstration
Schedule a free demonstration of Process Director BPM platform and discover for yourself how this unique business process management software platform empowers you to innovate, respond to market demands, and delight your customers. Or, contact us to learn more about how our BPM and digital transformation solutions have helped our customers conquer their digital challenges.