Understanding Your BPM and Workflow Needs
It is important to assess the needs of your organization to determine whether or not business process management software (BPM software) is applicable to what you are doing. The process of analyzing your workflow efficiency needs will provide a deeper recognition of what your company needs to be more successful. Having a solid grasp of that will enable you to give more thoughtful consideration to both the BPM tools and solutions that work for you — and will help you avoid the trap that a BPM solution in and of itself can make you faster, better organized and more profitable. (Since we all are occasionally all too eager to map our needs to what others tell us they can provide)
Coming to the issue of value, which is a very personal one, to really 'get value' for what you buy, you have to be discerning. Product marketing teams know that there is a 'sweet spot' within which most customer problems exist. Around that sweet spot the key marketing messages for a product are designed.
The BP Logix marketing group partners closely with our sales and product teams to understand what our customers need. That is the foundation of the way we do business. To that end, we have helped all manner of companies and organizations derive great value from business process management — not just as a tool but, also, as a way of doing business. Some of that comes from market analysis, research and observing BPM trends — the rest of it comes from understanding and putting ourselves in our customers' shoes. We understand the value of BPM and go to great lengths to help our customers implement BPM software solutions in a way that is applicable to their needs.
Improve Workflow Efficiency With BPM Software
[caption id="attachment_9303" align="alignright" width="300"]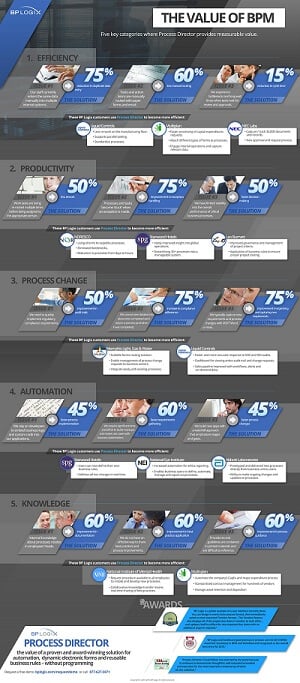 Click Here To View Infographic

[/caption]

Our infographic, The Value of BPM, illustrates some of the key BPM elements that an organization needs to consider— and the degree to which some of our customers have benefited from using them. Everyone likes to see big numbers, and as you will see in the infographic, we certainly like to highlight where companies have seen an increase in workflow efficiency and reduction in cost or the elimination of redundancy. You will also recognize that the BPM examples we use in The Value of BPM point to specific BPM use cases. These are clearly specific to these individual companies, yet they demonstrate a sense for what BPM delivers towards workflow efficiency.

Working with a process-focused direction will undoubtedly deliver specific and measurable results when there is a well-articulated mapping of business needs with the BPM implementation process.

The BP Logix team is interested in why a prospect considers exploring BPM software in the first place— so we dive into that prospect's business (with him, her or them) to understand how it is currently conducted. We look at the five key BPM elements:
Workflow Efficiency: Does the organization experience a duplication of efforts, manual interactions, and/or delays in approvals?
Productivity: Is an inordinate amount of time spent on singular tasks— and does lack of insight into the business limit their ability to provide direction?
Process Change: As business needs and requirements change, does the organization adapt and, if so, how well does it adapt?
Automation: Is the organization spending a lot of time on repetitive tasks, or trying to fit its needs into solutions that are not flexible?
Knowledge: Does the organization recognize and act with regard to best practices and guidelines?
We could certainly tell you that your company will be faster, smarter, better and richer as a result of implementing Process Director BPM software — and leave it at that.
Please make no mistake. We think those are worthy and attainable goals. Where we see results and progress towards workflow efficiency, however, is when the goals focus on fixing workflow processes, not just on profitability. The value of BPM comes from the changes that occur on the way to becoming a better run company! That is the value we seek to provide.
Request a Demonstration
Process Director is your intelligent BPM software solution. Request a demonstration and discover for yourself how this unique enterprise business process management software empowers you to innovate, respond to market demands, and delight your customers. Or, contact us to learn more about how our BPM solutions have helped our customers conquer their workflow efficiency challenges.