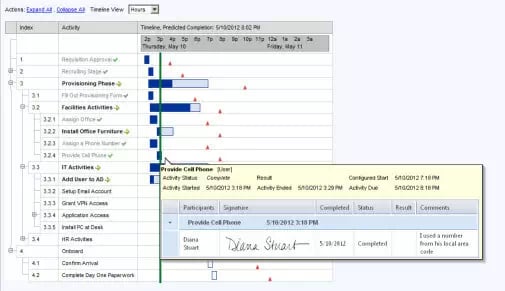 Likely, if you are considering a BPM solution, it is because you have heard about the benefits of business process management tools that BPM software provides. Those companies who have already implemented Process Director BPM tools are seeing a 75% reduction in data entry, improved process efficiency, and faster decision making.
Business process management (BPM) is the act of managing a single or multiple workflow processes. BPM software helps with business process management because it's equipped with a series of business process management tools that improves process efficiency which leads to more profit.
Business process management tools can organize simple, complex, and even one-off or ad-hoc processes. Intelligent and flexible in their use, BPM tools can work in a variety of situations such as mobile, applications, forms, automation and more.
What are BPM tools?
If BPM is the act of managing business processes, BPM tools are a variety of strategies to accomplish the end goal. Each BPM tool can accomplish a specific result through automation, optimization/reducing waste, and/or performing analytics. The tools connect the dots between the resources needed and the person who needs them, while also creating metrics in order to continually improve and refine the processes.
The tools can be used together to create a customized solution that is agile enough to grow with the business, integrate new processes and work with existing enterprise systems, faster and easier than ever before.
Business Process Management Tools of Process Director BPM Software
Process Director from BP Logix is an award-winning BPM software designed for creating and managing workflow-driven business processes. Its low code BPM platform offers greater insight into your business, faster time-to-market, and improved flexibility to meet the productivity and customer service demands required in today's economy.

The BPM tools of Process Director offer versatility to create the custom process management you need with less time and expense than former software development and coding allowed. These business process management tools include:

Extensible Software: Process Director is BPM software solution that extends your workflow application with custom features and easy integration with other programs already in place. Innovate and grow faster than ever before.

Application Integration: Provides built-in workflow and BPM application integration with many third-party and in-house applications and databases. No learning curve for new programs. Keep what works for you now and integrate, systemize and automate with ease.

Process Timeline™: This patented workflow engine allows you to construct, manage, optimize, analyze and manage, and modify business processes with ease.

Web-based and Mobile Friendly: Field service personnel, vendors and even customers aren't tied to a desk, and your business shouldn't be either. Process Director provides field service management software solutions for employees on-premise and out in the field..

eForms Software: Create electronic forms without coding to create consistent input and reduce data entry. Track changes easily, retrieve the most up-to-date content, and establish user permissions.

Document Workflow Management: Process Director's document workflow management system approval-based workflows, form tracking, compliance, task lists, and browse document folders to search for specific items .
Schedule a Demo
Contact us today for a free demo from a BP Logix BPM software expert and learn how to accelerate and improve service, oversight and customer satisfaction.