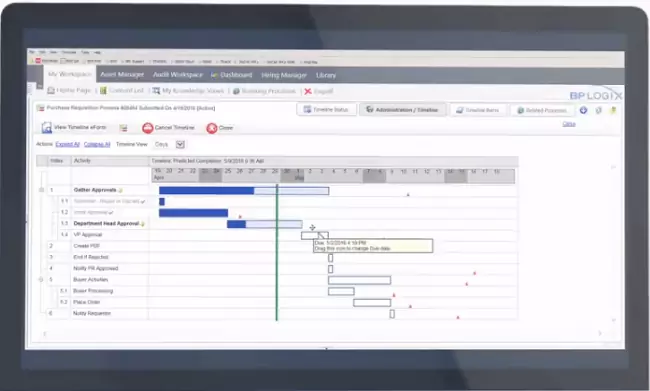 How BP Logix Works With Business and IT Users
There is a perception that some CIOs and IT Directors use Q1 to determine what they will buy in order to implement it by Q4. We know the reality, however, is that smart business people are always looking for BPM solutions to improve their businesses. Whether its Q1 or Q3, or any time before or after, they continue to seek to understand how to be more productive and efficient.
Change and flexibility are the basis for growth-minded organizations. And while change is inevitable, it cannot be totally disruptive. There are big changes (losing major customers, replacing key executives, market swings), and there are small changes (implementing a new accounting system, re-organizing functional teams). Some may be anticipated and, therefore, manageable, while 'big change' can impact the way you do business going forward. In either case, companies need to be prepared to deal with some level of disruption— yet keep the cadence of their business moving in the direction of their goals. Our free BPM software demonstration of Process Director keeps all of that in mind providing a customized experience based on your needs.
Put Thoughts of Business Change at Ease With a Free BPM Software Demo of Process Director

The ability to adapt to 'business change' is the backdrop for why we developed Process Director. BP Logix customers certainly needed help managing their business processes, but they also needed to do so in an environment that adapted well to change— and, as a result, actually helped the company improve. You know what change means within your organization, but we would like to you to experience Process Director first-hand, to see how it aligns with your business needs. So how do we give you that experience?

When you sign up for a free BPM software demo of Process Director, we provide a customized experience. We view our demo as an opportunity to show what our product can do in the context of your organization. Our customers often tell us that our free BPM software demos are different than other vendors. They believe that we take time at the front end to understand your needs and environment — and to then show how Process Director might enable your business to be more efficient (and more adaptable to changing requirements).

An important element of Process Director that we like to show is its business process automation software technology with built-in predictive capabilities. We understand that business priorities can change rapidly and sometimes before you are completely prepared to deal with them. Process Director was designed to enable users to make ad hoc changes to meet changing demands. And, of course, these changes can be done by end-users, not programmers.

Our free BPM software demo provides insights as to how Process Director works —and gives you a feel for the ease with which you can make changes to address your organization's specific needs. We can point to awards and validations from customers, yet understand that their story or situation may not be yours. What takes place in your group, division, and even across the entire company is unique. And we appreciate that —which is why we customize our demo to make it reflect that uniqueness as much as we can. We often hear prospects ask, "Is it really that easy?" We would love for you to be the judge of that yourself.

Our free BPM software demo of Process Director is best way to experience it and truly understand the nature of what it can provide — and to then map your challenges and needs to Process Director's workflow management software functionality and capabilities. A list of what our product can do would take reams of paper. Our free BPM software demo will allow you to see it live and will give you a realistic notion of where, and how, Process Director could fit in your department — or company. And, of course, it helps us to have a more substantive conversation about where you want to take your business.

Reviewing new products and evaluating vendors can be stressful and time-consuming. We're not interested in the hard-sell; rather, we hope to begin a dialogue — a constructive conversation to learn about your business and your needs. We suspect you will see the BPM benefits in Process Director after you see it in action.

The right tool is always one that addresses your needs, but is capable of growing as you expand, change and innovate.
Schedule a Free Demo of Process Director
That is what your business does, and what we strive to deliver. Contact us to schedule your free BPM software demo of Process Director today!