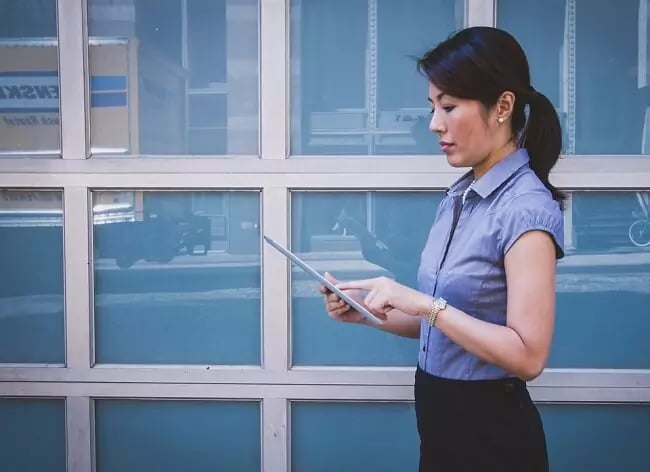 Just Because You're Away From the Office Doesn't Mean You're Out of the Loop.
Mobile BPM and mobile workflow solutions can undoubtedly give an organization more options as to how the company conducts its business. Processes and workflows require people to make decisions and add information at different points along the way. A process that is making use of all available data will need the input of people who may not necessarily be on-premise, or operating from the same type of device.
Process Director BPM Software is Web-Based and Mobile Friendly
Process Director has always been the mobile BPM solution of choice for meeting the business process management (BPM) requirements of enterprises, mid-sized companies, agencies, and non-profits. These business and IT leaders have moved beyond antiquated workflow tools toward Process Director to automate and improve their critical internal business processes, and have realized the many benefits of doing so.
Increasingly, forward-looking organizations have begun to look for ways to take advantage of cloud-based and mobile technologies to extend their business processes not only more broadly across their own enterprises, but also outward to their customers, partners, and suppliers. Process Director provides the BPM software and workflow software capabilities and features to make this strategic expansion possible.
Process Director mobile BPM and mobile workflow solutions were built with three simple principles in mind:
Engage the customer by making it easy for her to communicate her problems and expectations, and for you to acknowledge them.
Embrace the customer by enabling him to participate directly in business processes you have designed for them.
Extend the cloud into your work environment by integrating popular cloud services within your workflows.
Process Director empowers users with mobile devices such as tablets, laptops, and smart phones to participate fully in your organization's workflow processes.
Using your mobile device, you can:
Review, complete, and submit forms
View dashboards and reports
Attach photos or record GPS data to forms
Complete tasks via email while offline
Mobile BPM and Mobile Workflow Solutions For Field Service and Inspections
For management: Real-time visibility and transparency
Configurable, rules-driven workflow, Corrective/Preventative Actions (CAPA)
Real-time geolocation tracking
Configurable UI/UX: reports, forms, charts, and more.
Easy information sharing
Robust data and user security
Real time integration with enterprise applications (e.g. ERP, CRM).
Mobile-ready
Offline information capture
Custom searches, fully accessible history
For field staff: Fast and easy data capture, wherever you are
Intuitive user interface, whether using tablet, smart phone, or desktop
Broad mobile data collection, including photos, video, location
Automated rules-driven distribution of collected data
Maps integration for easy route planning
Offline data collection, routed automatically when back online
Capture live customer signatures
Email integration for alerts, notices, updated instructions, etc.
Mobile BPM Example: Field Service and Inspections at the City of West Allis
The City of West Allis (Wisconsin), uses Process Director and its mobile BPM and mobile workflow solutions to manage a variety of processes that can best be accomplished by employees in the field. Building inspections are among the most time-consuming processes that City employees must regularly manage.
Jim Jandovitz, the Director of Information Technology and Communications, fully knows the value of the field service management software solutions that Process Director provides. He said, "If we only saved five minutes per inspection we would be saving tens of thousands of dollars per year. With building inspections alone we can anticipate saving almost 3,000 hours or 1.78 positions. And, as people retire we won't be filling those positions which is an additional cost saving."
Learn more about how the City of West Allis is accomplishing financial savings and efficiency improvement with field service and inspections. Read the Customer Story.
Mobile Devices
Process Director mobile BPM and mobile workflow solutions support most mobile devices, including Apple and Android smart phones and tablets, and Mac and Windows laptops. eForms are responsive and will automatically adjust themselves to match smaller form factor devices like smart phones; additionally, you can directly manipulate the way your form is presented on various devices for a fully customized experience. There's no need to download yet another app: Process Director mobile BPM solutions works with the browser your mobile device already has.
Even though it runs in your browser, Process Director can takes full advantage of your mobile device's unique features. Snap a photo to attach to a workflow, or record your GPS location information at the click of a button. Process Director's mobile workflow management features are perfect for:
Audits
Inspections
Clinical Patient Visits
Field Service Work
and more...