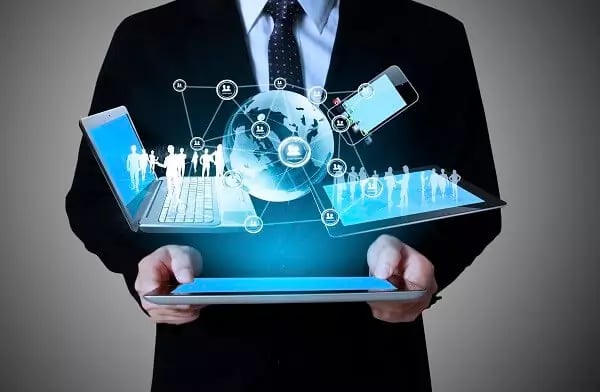 What Is A BPM Suite (BPMS)?
A BPM suite (BPMS) is a set of business process management tools that are implemented in order to improve business processes. Benefits include increased productivity, more streamlined procedures, less downtime waste, better customer and/or employee experience. This leads to more complete and consistent data in which to make more accurate decisions.
BPM software has evolved from simple process automation into a more robust management and engagement tool. Process Director business process management suite from BP Logix has balanced this complex functionality with easy to integrate solutions to get the most benefit, without the elaborate, expensive, and frustrating need for IT resources and coding.
Digital Transformation With A Business Process Management Suite

Digital transformation. It is more than just a trending term. It is the goal of today's forward-thinking enterprises and is increasing impact on the marketplace.

What is it? Overall, digital transformation allows your business to stay ahead of the curve by putting technology in place to allow for continued growth and expansion. The most powerful technology, in our opinion, is that of a BPM suite.

As business process management suites have morphed to handle increasingly complicated tasks and processes, the need for simplicity has become more crucial than ever before. BPM technology advances, such as low code rapid application development, has bridged this gap, allowing for both complexity and simplicity in one dynamic software. The cloud based platform means it stays as agile as your business, with updates to create continuous improvement.

Overall, Process Director business process management suite (BPM Suite) can make your job easier.

Business Tools Designed For The User. In the past, everything was code driven. A solution was implemented and users where trained on how to use it, that is, until something newer and better came along, when then the process had to start over again. With Process Director BPM suite, we turn this old thinking on its head and start with the user first. The tools are easy-to-use and focused on results and needs of the user in a way they already understand.

Structure Based On Projects. Outdated traditional BPM platforms depend on linear, first-second-third type processes, designed for manufacturing type systems. Today's businesses need more than that and Process Director business process management suite does this by structuring BPM to focus on projects in small segments that allow for easier automation and faster ROI.

Proving A Valuable View Of Business Processes. Real-time data and analytics, as provided in an iBPMS such as Process Director, means better management. The users define not only the processes but also key performance requirements, resulting in relevant, accurate and concise decision making.

Customizable reports, alerts, e-forms, permissions and automated responses keep and build accountability, accuracy and information storage with more efficiency and effectiveness.

Process Director BPM suite is a robust yet easy-to-use solution that combines the automation of both repetitive processes and unique, unpredictable processes and human decision making into one. Want to learn more about Process Director business process management suite? Contact us today for a free demo from a BP Logix business process management expert and learn how to speed your workflow, communication and decision making processes with our award winning platform.

Image Credit: http://blog.snapinspect.com