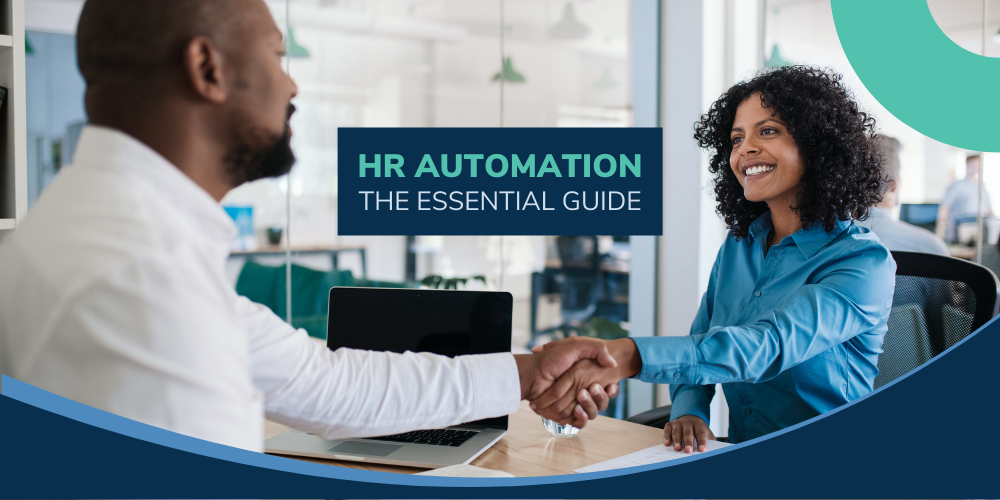 HR automation software can streamline recruitment workflows and enhance the employee onboarding and offboarding experience. Here's our guide for businesses looking to streamline their HR processes with technology.
What is human resources (HR) automation?
Human resources (HR) automation is a process of streamlining repetitive human resource functions, including employee onboarding and offboarding, payroll, benefits administration, and more. HR automation uses technology to digitalize and automate time-consuming and repetitive tasks that fall under the scope of the HR department.
Statistics from Gartner's Artificial Intelligence Survey showcase that the businesses who are implementing automation tools powered by artificial intelligence (AI) to streamline repetitive HR tasks improve employee experience and make informed decisions. In fact:
51% of businesses implement HR automation tools to capture cost savings.
Over 56% of those deployed AI-powered HR automation tools are looking to improve customer experience and automate repetitive, time-consuming, or manual tasks.
62% of those deployed AI-powered HR automation tools are looking to improve the accuracy of decision-making.
Automating HR processes is a paramount for organizations of all sizes as it helps in reducing employee turnover rates and increasing organizational productivity. We put together this guide to help businesses understand the benefits of HR automation and identify the common HR workflows to automate.
Common HR processes and workflows to automate
A few common HR functions and workflows to automate are recruitment, development, payroll, employee relations, employee retention, tax compliance, health and safety, performance management, and offboarding. Let's take an in-depth look at a few of these below.
Recruiting efforts
The recruitment process comprises several steps, including recruitment planning, strategy development, searching for ideal candidates, screening of candidates, and evaluation.
An HR automation software can reduce the cost-per-hire and improve recruiter productivity by eliminating the need for human interference in the following recruitment tasks:
Candidate sourcing and engagement.
Screening resumes based on various predetermined parameters such as experience, qualifications, salary expectations, and skill sets.
Applicant's status updates throughout the recruitment journey.
Scheduling interviews.
Employee onboarding
Over 36% of HR leaders in a recent survey blamed insufficient technology for their inability to streamline employee onboarding programs. An HR automation software can enhance the onboarding experience for new hires by eliminating the need for manual interference in activities such as:
Pre-boarding workflows, including sending welcome emails and creating user accounts.
Scheduling orientation meetings.
Employee onboarding documentation.
Collecting feedback on recruitment and onboarding process.
Not sure where to start? Don't miss our guide for how to automate the employee onboarding process.
Employee offboarding
Employee offboarding is a process that involves several activities leading to a formal separation between the employer and the employee. Organizations need to streamline the employee offboarding process to meet compliance standards, minimize legal risks, and provide the best possible experience for the departing employee. An HR automation software can automate offboarding activities such as:
Resetting shared passwords.
Creating backups of data or documentation.
Revoking access controls.
Getting non-disclosure agreements signed.
Conducting exit surveys.
Payroll and employee benefits
Manually managing payroll is time-consuming, error-prone, and labor-intensive. The lack of automation often results in employees receiving salaries and benefits at a later date than expected, or identifying mistakes that take great lengths of time to resolve.
A few payroll and employee benefits tasks that can be automated are:
Timekeeping and time tracking.
Calculating wages based on working hours, overtime, and holidays.
Processing direct deposits and sending notifications to employees about their salary deposits.
Managing deductions for employee benefits.
Completing and filing relevant paperwork.
Expense claims
Expense claims are reimbursement requests submitted by employees to claim back the costs they paid on behalf of their employer. Every month, HR team members receive expense claims in the form of mileage, food, and travel expenses. However, a recent survey found that 43% of businesses are still managing expense reports manually. Of those who implemented automation software, 82% have said they aimed to simplify the expense reporting process for employees and managers.
An HR automation software can simplify the expense claims process by:
Eliminating the need for physical reports/paper documents.
Enabling employees to scan and upload claim reports.
Getting the approvals from managers through e-signatures.
Automatic and timely pay-outs.
Routine data entry
Did you know that HR professionals lose over 14 hours a week on manual and repetitive data entry tasks that could be automated? In most organizations, HR teams are forced to do routine data entry tasks with regards to HR processes such as attendance, payroll, employee data recording (personal and medical), and taxes. An HR automation software can eliminate human interference in routine data entry processes such as:
Entering employee data.
Identifying the incorrect, irrelevant, incomplete, and duplicate data.
Verifying and validating data.
Updating the database.
Tax filing
Staying compliant with employment tax requirements is one of the biggest concerns for businesses. With manual HR processes, it is very difficult for HR teams to keep up with tax laws and deadlines.
According to Deloitte, organizations have a 15-90 percent cost reduction opportunity depending on the taxation activities they select for automation.
HR automation software can help businesses streamline the following activities within the scope of filing taxes and help them stay compliant with tax laws:
Gathering and validating data from employees.
Running reports and calculating adjustments.
Filing income tax returns.
Keeping tax reports to meet the compliance standards.
Performance reviews
91% of companies that adopted continuous performance management are making informed-people-decisions and removing biases in promotion and advancement. With automation software, HR teams can streamline the feedback collection process and spend less time on administrative tasks related to performance appraisal such as:
Gathering self-feedback from employees.
Gathering feedback from peers and managers.
Sending reminders to employees/managers.
Implementing Objectives and Key Results (OKR) framework (OKR is a tool used by organizations to determine SMART goals and track their outcomes.)
Benefits of automated HR systems
There are a myriad of benefits to implementing automation in your HR systems and processes, including:
Improved efficiency that positively impacts operations
HR teams often waste time on unproductive and repetitive tasks such as screening candidates, scheduling orientation meetings, and manually entering employee data into spreadsheets and timesheets.
Software that automated processes in HR systems can improve the efficiency of HR teams by letting them focus more on strategic tasks such as recruitment planning and succession planning than unproductive and repetitive tasks. This level of efficiency can trickle down to other parts of the business, positively impacting revenue-generating departments of an organization.
Less dependence on paper documents
HR is a document-driven department. However, paper-based processing is highly time-consuming and costly. In fact, U.S businesses waste over $8 billion managing papers every year. Additionally, they spend an average of $120 to find a misplaced document and $220 to recreate a lost document. An HR automation software reduces the dependence on paper documents and increases the productivity of HR teams by digitalizing activities such as onboarding, offboarding, tax filing, and feedback collection.
Reduced clerical errors that cause financial loss
An overwhelming 97% of the workforce, in a recent survey, stated that automation can help their organization in reducing human errors and improving productivity. An HR management software may help organizations reduce clerical errors that cause financial losses.
Improved experience for job candidates
Job candidates often feel anxious about the company when they don't receive updates on the status of their recruitment journey from the HR department. When manual processes are in place, HR staff struggles to provide updates to job candidates on a regular basis, risking the loss of potential new employees. This often results in dismal recruitment experience for job candidates and reflects poorly on the organization as a whole.
An HR automation tool can improve the experience of job candidates through following ways:
Providing regular updates on the status recruitment journey.
Answering repetitive questions about the job through chatbots.
Streamlining the employee evaluation through push notifications.
Streamlining pre-boarding workflows.
Put your people first! Better experience for existing employees
An HR automation software enables you to put your people first and provide them with a better working experience. This often results in higher employee retention rates and better organizational performance. To add, organizations in which HR departments facilitate a positive employee experience report 1.3 times higher organizational performance.
Effective HR and business process automation with BP Logix
Automation can help HR managers eliminate redundant, time-consuming, and labor-intensive tasks in areas such as recruitment, onboarding, payroll, offboarding employee benefits, expense claims, tax compliance, performance management, and more.
A human resources automation software can improve the efficiency of HR teams and make them less dependent on papers.
Ready to accomplish the same?
Streamline your human resource management processes with the help of BP Logix HR Automation Software. Request a demo to see how it can assist your organization today.