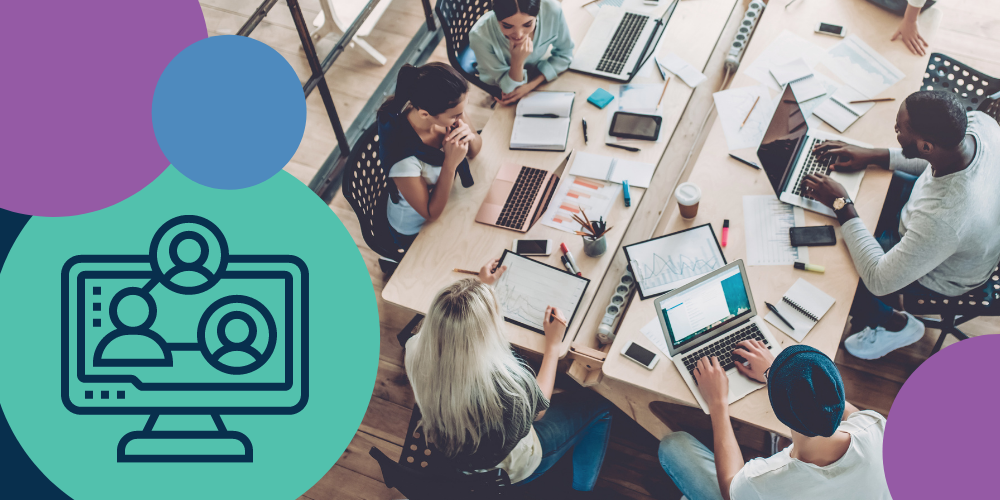 Automating your employee onboarding consolidates and reduces redundancies in HR processes, saves you time, and improves the accuracy and security of organizational data. In even better news, it also contributes to greater productivity and retention among new employees.
In this guide, we'll dive deep into how and why implementing an HR automation solution for onboarding proves so powerful for future-forward organizations.
Why should I automate in the first place?
Manual onboarding or partially automated onboarding processes can leave a lot to be desired for both HR leaders and employees.
With all respect for the challenges of managing employee data in a complex and/or growing organization, legacy processes often suffer from a number of inefficiencies:
Siloed data, both within HR departments and between shared departmental resources
Disconnected recruiting, hiring, and onboarding processes
Human error
Automated onboarding enables greater leveraging of the same data points across departments and functions in your organization. By identifying areas of overlap, or revealing new opportunities for data sharing – all while proving more secure than manual processes – automated onboarding introduces a greater fluidity to existing processes.
With AI-enabled technology leading the way, errors are reduced, compliance is made simpler, and employees are left impressed by your organization. This not only fosters greater satisfaction in their first days at the job, it also improves retention in the long term and ensures more productivity at the onset.
In this way, employees can jump into their new job functions with confidence, while you report to management that the help they needed is on the way, faster than ever before.
How to automate your employee onboarding process
At BP Logix, we do not advocate for a one-size-fits-all approach to automated employee onboarding. Every organization has unique needs, and your automated onboarding process should meet those needs better than your current manual or partially-automated processes.
In most cases, you and your team will know best which processes could benefit from automation. You probably have a list of headaches and bottlenecks from processes that either need a complete update, or could stand to be made more efficient.
When identifying how to automate more holistically, you'll want to audit current processes to discover which (and how many) need to be retired or integrated with other solutions.
Examples of onboarding processes and HR tasks that are frequently improved through automation can include:
Recruiting and hiring
Employee referrals
New employee forms
Benefits enrollment
Equipment provisioning and/or reimbursements or expenses
Facilities access
IT setup
Training and compliance
Many of the data inputs and outputs inherent to these processes can be shared, and organized in such a way that they both align with your unique organizational structures and meet the essential needs for internal reporting, regulatory compliance, and employee engagement.
What to look for in your automated employee onboarding solution
While there are many onboarding solutions on the market, several options seek to force the disparate needs of various organizations into one, broad approach.
This can help to marginally improve things, but such an approach often shortchanges HR departments on some of the very promises that automation offers in the first place.
Instead, look for software that promises a robust set of capabilities that matches your organization's unique needs.
End-to-end visibility: Track progress and identify bottlenecks with a high-level view of the entire employee onboarding cycle, from recruitment, to day one, through to 30/60/90 day analyses.
Customizable workflows: Automated onboarding systems should fit your company's particular HR needs – not the other way around.
Pre-built workflow components: Customization doesn't mean you can't hit the ground running, or that you can't implement a new automated system quickly. Smart onboarding automations provide templates and pre-built modules for common tasks like requests/approvals, document submission and filing, and provisioning checklists. This allows HR managers to swiftly improve core processes even as bespoke integrations are being implemented (these can also be built quickly, with the right software).
Intelligent routing and approvals: Ensure the correct review/approval tasks are delivered to the right hands, at the right times, with automations that account for the busyness and imperfection of humans in the loop. Automations are meant to make lives easier. They aren't just a means of simply duplicating manual processes in digital form.
Predictive analytics: Be warned when a task is going to be late, or if there's another similar challenge looming. Analyze organizational trends to target new efficiencies.
Seamless integrations: Plugging into existing IT systems should be as easy as possible. Low-code, AI-enabled technology will reduce friction in matching new automated solutions to existing data architectures.
User-friendly dashboards: HR managers want automations that help them do their jobs, which should include reports and interfaces that are as easy-to-use as the underlying automation technologies they are built upon. Extended to users and onboarding employees, this easiness should reap many more positive benefits within the organization, once rolled-out.
A great way to see just how crucial features like these can optimize your employee onboarding processes is with a tour of BP Logix's solution: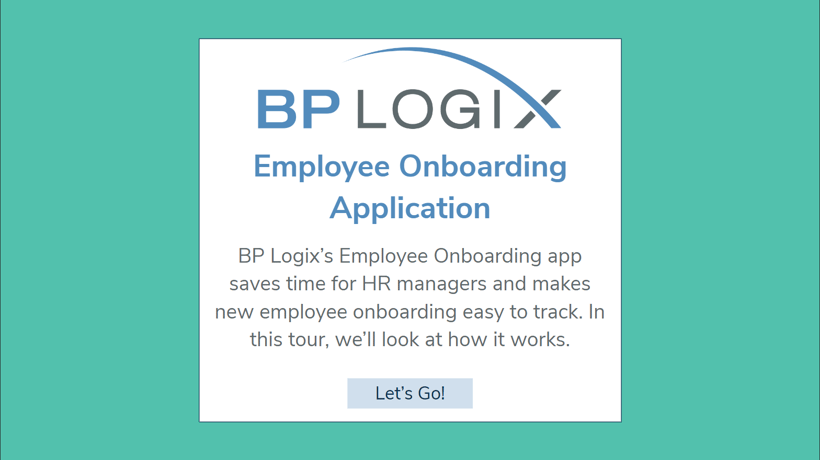 Spotlight: Automated employee onboarding success in action
Let's look at how customers are using BP Logix to automate and improve their employee onboarding process:
University of Wisconsin Eau Claire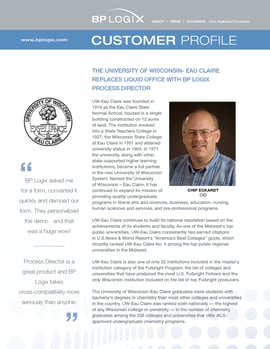 When the University of Wisconsin Eau Claire was looking to replace a legacy onboarding system that was no longer meeting their evolving needs, and costing too much money for a fixed cohort of licensed users, they did a lot of homework.
After looking at over 100 products, a few key factors in particular led to them to shortlist Process Director, from BP Logix.
UW-Eau Claire needed an onboarding solution that:
Favored cross-compatibility
Didn't cost more than made reasonable sense
Was easy to develop to internal needs
Was easy to use
Did not charge per-seat for licensing
Did not have any barriers to development
Featured better responsiveness and support
According to UW-Eau Claire, they ultimately selected BP Logix as their partner for automating employee onboarding based on the strength of their demo of Process Director.
In line with the professed advantages in speed, simplicity, customization, compatibility and cost-reduction, UW-Eau Claire found that Process Director for BP Logix delivered on the promise of automation to make their HR processes better and more modern.
The University of Texas at El Paso (UTEP)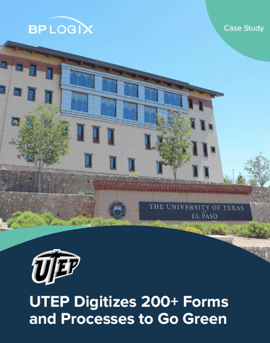 Human resources leaders at the University of Texas at El Paso (UTEP) wanted to take advantage of the opportunity presented by the organization's decision to go green, to also streamline employee onboarding and other processes through more advanced automation.
Ultimately, they chose BP Logix as their partner in this, with the end result being the elimination of 200 paper forms and counting.
On top of this, UTEP cited the following benefits to automating their documentation:
Easy to install, use and customize BP Logix software
Time saved – the UTEP IT team saved countless hours with low-code implementation
Less frustration, no more missed deadlines, thanks to greater visibility and smart notifications from the BP Logix dashboard
UTEP ultimately felt they found a perfect match in BP Logix, considering that they also needed more advanced functionality with their new automated employee onboarding solution, such as user authentication and dynamic documentation routing.
With this blend of streamlining and custom modification, UTEP was able to leverage automated onboarding to make user experiences more pleasant for employees and students alike.
Smart automation makes for happier humans, too
While perhaps less easy to quantify in the past, in recent years researchers have begun to see how the right automations can lead to happier, more productive employees.
We've already touched on such benefits a bit, but let's dig in more fully, considering the importance of employee engagement to organizational success.
The employee advantages to implementing an automated onboarding system are numerous, and often include:
Removing tediousness from the process
Bridging the gap, and speeding up the handoff, between recruiting and onboarding
Empowering and impressing new hires from the onset
Positive impacts on workplace culture
Automated onboarding represents the sort of technology organizations will want to adopt, as they continue to focus more on the human in human resources – towards results that will also impress leadership, when costs are reduced and productivity grows.
Take employee onboarding into the future with BP Logix
Examples like the above highlight just some of the ways by which BP Logix seeks to deliver automated onboarding solutions that strike the appropriate balance of efficiency and customization for an organization like yours.
If you're reading this and wondering if a new automated employee onboarding solution could make your life easier, and your organization more productive and happy, let's get you a demo and dig in on what particularly BP Logix can do for your HR team.
Happy onboarding!