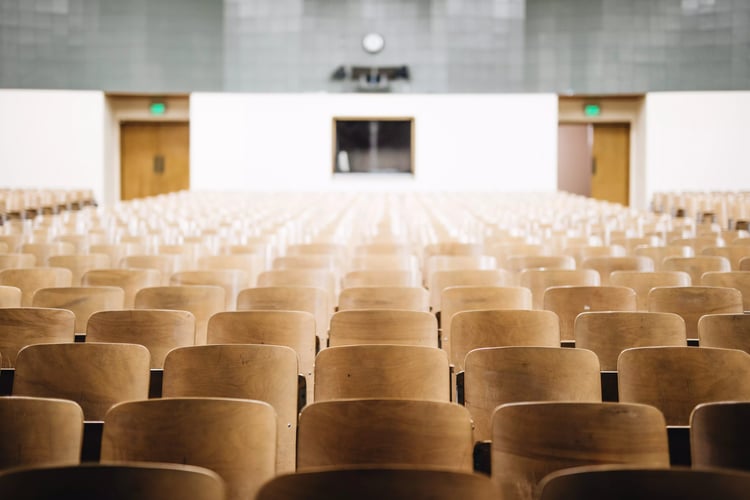 No matter their size, private/public designation, endowment, or geography, all colleges and universities are experiencing major changes due to COVD-19. While large universities have received the most attention for the challenges they're experiencing, it's often smaller schools that are hit hardest.
Faced with limited budgets and fewer resources, small colleges are already dealing with the challenges of meeting enrollment demands, effectively servicing students and being nimble enough to adapt to change. With major disruptions for all schools because of COVID-19, smaller schools have to make moves to be prepared for navigating uncertain territory.
There is no question that smaller schools are an essential part of higher education. They usually have better student-to-faculty ratios, offer specialized academic tracks and are better options for students who want to be part of a smaller environment.
Small liberal arts colleges emphasize a broad array of academic disciplines, while some regional schools focus more on training for professional services like fire services, nursing and other service-related professions.
Higher education workflows address key technology needs
The changes that stem from the coronavirus have thrown everyone for a loop. Schools are having to build solutions immediately to address current needs and they are developing plans for an uncertain future. The major difference between big and small schools in the current education landscape comes down to technology and how it's applied to solve these problems.
However, budget restrictions of smaller schools prevent massive student relationship management systems and armies of software developers that spin up solutions as needed. While scale of technology may always be an issue, the approach to problem-solving can be addressed by schools of any size. Workflow can be the defining factor for schools being agile because workflow is foundational to how problems are solved, irrespective of the technology that's used.
Establishing a workflow & process management foundation
Effective workflow, however, is more than just a series of tactical activities. It aligns with user intent and is applied to the unique technology functionality required of a college's students, faculty and other stakeholders.
It also helps to create behaviors that maximize usage and deliver meaning to users. This is especially important when higher education is changing behaviors for things like online learning, applying for financial aid, hiring and offering new types of student services.
A workflow foundation will also help when even those new solutions change as schools change regulations to adapt to new governmental and health and safety requirements.
The three most critical aspects of aligning workflow, technology and university needs are ease of use, solution context, and communication. Effective workflow ensures that all these elements are met so that users have not just a more efficient experience, but one they can begin to rely on to consistently meet their needs irrespective of the rate and type of change they will experience in the short- and near-term. Let's look more closely at how these factors can support the needs of smaller schools:
Workflow & process management simplifies digital experiences
Process Director provides a great example of how ease of use can translate into effective solutions. It enables the creation of sophisticated, low-code digital applications that take into account the necessary data and workflow sources on the back-end, and considers how users on the front-end will actually use the app.
By being able to create simple apps that integrate relevant information, including smart forms and processes, students can get the information they need and take action on things like class scheduling, financial aid, and other relevant events. The teams who build the apps benefit from Process Director's agile approach to adapt as needed to increase adoption and productivity.
While Process Director is easy to use for those who need to build applications rapidly and continuously meet changing needs.
Workflow & process management provides context for data
Small college IT teams use Process Director to optimize the use of data so that the applications they create help students engage and complete tasks with limited disruption to their schedules.
Process Director helps direct the way that organizations surface and orient data through interactive forms and workspaces. Just as human interaction is complex, Process Director looks at the workflows in applications not as a linear phenomenon, but as a continuously shared collection of usable elements that allow for context-based structural changes, last moment decisions, and individualized attention depending on each circumstance.
The case management approach inherent in Process Director also helps greatly when delivering applications that integrate historical data on students (transcripts, payments, scholarships). With navigable data that can be filtered for omission or inclusion depending on the situation, applications can adapt as the students' situations change and evolve.
This approach supplies students with applications that provide them with what they need when they need it, all without forcing them to search outside the context of the case to find answers.
The Importance of Communication
Students and faculty are being bombarded with emails, texts, direct messages and a host of other types of communication in order to get the information they need. However, that information can go unnoticed if it doesn't fit with how they are accustomed to consuming news and alerts. Schools need to ensure that students see important messages, but also create ways for students to communicate back with them.
With capabilities that facilitate connecting and communicating across departments, Process Director can help schools collect applications, forms and data sources into a collective portal that delivers all student's actionable needs into a single interface. That reduces response time and enhances the kind of communication students need in order to adapt to changes, stay on top of opportunities and always be current about how they can interact with their school.
Final thoughts
No school, irrespective of size, can meet the demands of the post-COVID-19 world on an application-by-application basis. Small schools that want to align their goals and processes to student behaviors will need to apply change through the use of smart workflow and processes.
To serve these needs, Process Director provides digitally transformative and contextual education workflow solutions, facilitates efficient distribution of information and streamlines the monitoring and management of information.
Learn how colleges like Cal State Stanislaus and Ogden-Weber Technical are using process director and preparing for a post-COVID reopening.