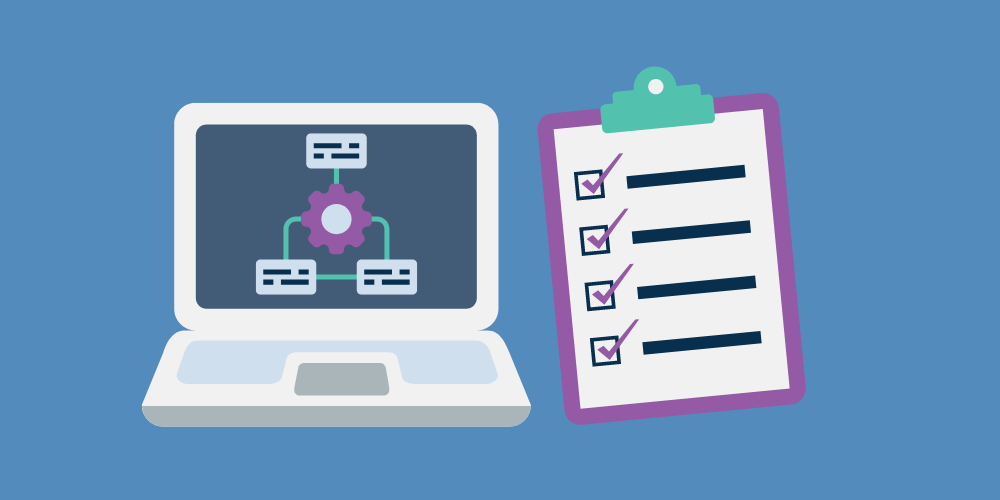 Publication management is a critical function intended to facilitate the timely and efficient dissemination of valuable research data. However, medical affairs teams often face significant pressure to streamline their publication management process, especially in light of the rapidly evolving role of medical affairs.
Due to the complexities of peer-reviewed articles and research papers, publication management processes can often become bogged down by information bottlenecks. These information logjams are hard to detect and even more difficult to resolve.
Some of the challenges that publication management teams will encounter while navigating these information backlogs include:
Keeping track of publication timelines and deadlines

Managing complex authorship and collaboration processes

Ensuring compliance with regulatory requirements

Dealing with a large volume of publications

Balancing the needs of multiple stakeholders, including authors, reviewers, and senior management

Overcoming limited visibility and control over the publication process due to a lack of technology or tools

Working around limited resources and budget for publication management
Publication management teams that can overcome these hurdles and optimize their processes will be able to:
Achieve a faster time-to-market for new drugs and treatments

Reduce costs and resource waste

Improve accuracy and compliance

Increase efficiency and productivity

Enhance collaboration among teams and stakeholders

Increase visibility and reporting capabilities
You should consider partnering with a publication management vendor to empower your publication management team to tap into these benefits. To help accelerate your search for a reliable vendor partner, we have outlined vital factors you need to consider so you can achieve a strong return on investment.
What to consider when looking for a publication management vendor
When selecting a publication management vendor, make sure to consider factors such as:
1. Reputation
There are many factors to consider when evaluating a publication management vendor's reputation. First, ensure they have experience working with organizations in the same industry. After all, publication management is not a function that's exclusive to health sciences businesses. Therefore, you may encounter more generalized publication management solutions that were not purpose-built for this sector during your search.
To determine whether a vendor has experience in your vertical, look at their list of past clients. For instance, BP Logix worked with LimFlow, an early-stage life science company that specializes in treating critical limb-threatening ischemia (CLTI), to automate their publication management process and accelerate the production of their medical publications. If an organization can effectively meet the needs of a leading organization in your vertical, it can undoubtedly assist with your publication management challenges.
Any reputable vendor will also have case studies and other information about previous partnerships available to read on their website. If the list of clients does not primarily or exclusively feature entities within your industry, they're probably not the right vendor for you.
Another effective tactic for assessing a vendor's reputation is examining their attendance and participation at industry conferences. Vendors like BP Logix attend Mass East/Mass West conferences and events hosted by the Medical Affairs Professional Society (MAPS).
2. Configurability to SOPs
Your publication management processes are likely similar to those used by other entities within your industry. However, they are not identical. Therefore, it is vital that you select a solution you can adapt to the nuances of your organization's unique standard operating procedures (SOPs).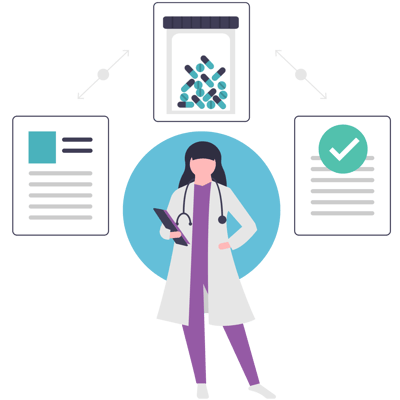 You can configure many publication management solutions to align with your SOPs, but how long will making these customizations take? More importantly, what will be the cost? Most vendors use traditional software development processes, meaning these customizations will take time and money.
Conversely, BP Logix leverages Process Director for Life Sciences to rapidly and efficiently tailor our publication management software to your needs. Process Director offers unparalleled flexibility and enables us to make changes quickly, which cuts your development costs and decreases your time to value.
The sooner you roll out your solution, the faster you can overcome publication management headaches. BP Logix outpaces other leading options in terms of deployment time, which enables you to put your publication management woes behind you for good.
3. Intuitive UI
One of your most significant priorities is ensuring that your publication management vendor can support your long-term organizational goals and provide financial benefits. However, it is equally important to consider the quality of the solution's user interface (UI). Keep in mind that your team members are the ones that will be interacting with the platform on a daily basis. Therefore, it is vital that you provide them with an intuitive, user-friendly solution.
The ideal UI should enable medical affairs teams to seamlessly transition from task to task without disrupting their workflow. The interface must be easy to navigate, simple to learn, and organized in a way that supports overall efficiency.
But how can you determine whether a platform provides an intuitive UI that will streamline publication management? The most pragmatic approach is to schedule a demo.
When arranging your demonstration, make sure to include members of your medical affairs team. They will be able to evaluate the solution from their unique perspective and provide insights that assist with your purchasing decision. Keeping them in the loop during the early stages of your search will also promote better buy-in down the road.
4. Efficiency-oriented UX features
During your demonstration and assessment of publication management solutions, look beyond the interface and explore its features. Before setting up any demos, make a feature wish list. When creating this list, categorize items based on their must-haves or nice-to-have capabilities. The best solutions will check all the must-have boxes while also throwing in some additional features that will optimize your team's efficiency.
Without question, automation tools should make it into your must-have category. By automating redundant aspects of your publication management processes, you can increase team productivity and reduce friction from your workflows. While you may not be able to automate everything, you should be able to automate many key tasks that can lead to bottlenecks.
For instance, BP Logix's publication management solution, PubPro, allows you to automate debarment checks and automatically assign tasks to team members:

Thanks to these features, our solution has received overwhelmingly positive client feedback. Specifically, they have credited our platform with making their processes more effective and efficient.
5. Support responsiveness
To derive maximum value from your publication management solution, you must choose a vendor that provides responsive support. You should also ensure that the vendor offers more than post-deployment product support. Additionally, they should provide exceptional customer service during the purchasing process. The ideal partner will also support you during configuration, deployment, and rollout.
Working with such a vendor will set the stage for a more seamless implementation process. It will also empower your team as they adapt to the new platform.
Vendors that prioritize support responsiveness and are open to your product suggestions can be a massive benefit to your organization. These vendors will apply your feedback to refine their solutions and service model, which means you will have access to a product that provides both short- and long-term value to your organization.
A vendor's responsiveness will be evident from the moment you reach out to their sales team. Conversations should center around the product, its capabilities, and how they align with your business goals. If a vendor makes your organization the focus from the outset of your interactions, they will likely do so when you voice product concerns or come to them for support.
6. Seamless collaboration
Historically, collaboration during publication management processes has been exceedingly difficult. It has been particularly challenging for internal and external authors to collaborate, as they typically use disparate tools and software.
To eliminate these hurdles, you need a robust publication management solution that facilitates seamless collaboration. It should come with tools that make it easy for internal teams, stakeholders, and external authors to work together on shared projects.
For instance, PubPro makes it simple for both internal and external project participants to collaborate by seamlessly integrating with an organization's existing tech stack.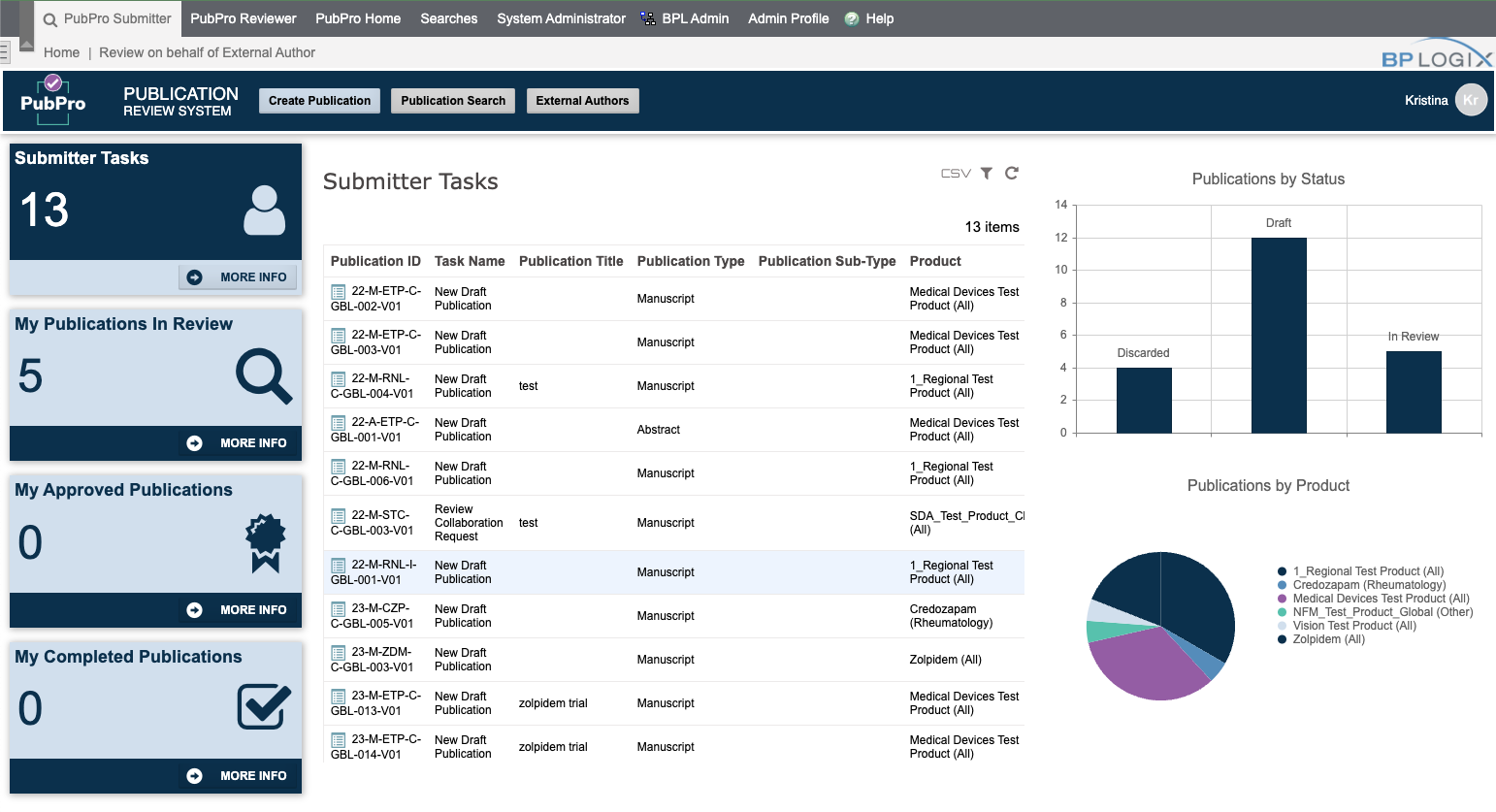 As part of our continuous improvement initiative, BP Logix is also developing integrations to enhance collaboration and information sharing further. These improvements will include SMS and Microsoft Teams-based notification tools, which allow you to grant external authors access to projects.
Tearing down barriers preventing teams from working together is just one of the many ways PubPro promotes better publication management efficiency. Productivity increases significantly when project members can effortlessly communicate and share information.
7. Competitive pricing
While searching for a publication management vendor, you will encounter many solutions at varying price points. Some platforms are designed and priced for large life science companies. However, these solutions are not economically viable for small to medium-sized entities. Even if the price point is something that your organization is willing to overlook, you will need significant internal IT resources to deploy the platform.
Beyond these enterprise-level solutions, you will find several platforms designed for smaller to medium-sized life science companies. But the cheapest options may offer minimal features or require a colossal back-end investment.
On the other hand, PubPro is a feature-laden publication management software that is ideal for smaller to medium-sized companies. Our platform is competitively priced, easy to customize, and supported by a world-class team. If you have been searching for an enterprise-quality solution without the enterprise price tag, BP Logix's PubPro platform is an excellent option for your business.
8. Reporting/analytics capabilities
Medical affairs teams have been dealing with information bottlenecks as a proverbial thorn in their side for years. Unfortunately, these productivity disruptors can stem from many factors that are difficult to trace back to a single cause. So before publication management departments can eliminate these roadblocks, they must first identify where they are occurring and why they exist.
If you want to make it easier to optimize efficiency and address these issues, you need a publication management solution that includes advanced reporting and analytics capabilities. Such a platform will provide actionable insights that you can use to reduce workflow friction and bolster productivity.
Streamline publication management with a reputable vendor
Overseeing your publication management functions in-house with no external support can be a tedious, labor-intensive, and costly endeavor. Furthermore, publication bottlenecks can limit the efficacy and reach of potentially groundbreaking research, slow your market speed, and hamper innovation.
Conversely, investing in a robust publication management solution from a reputable vendor like BP Logix can streamline every facet of publishing research and other high-level content. With BP Logix's PubPro solution, your organization can:
Slash publishing and management times

Expedite the time-to-market for new drugs and treatments

Improve compliance and records accuracy

Facilitate better collaboration among teams and stakeholders

Enhance visibility and improve reporting capabilities
Our solution lets you pinpoint where bottlenecks occur, identify why they are forming, and resolve these information logjams. BP Logix's technology is a true game changer for your organization.
To learn more, connect with BP Logix to schedule a demo.