The average cost of developing a drug is $2.6 Billion and rising, with a 12% success rate1. As pharma companies look to 2021 and beyond, the Medical Affairs, Commercial and Regulatory affairs teams will be collaborating more closely amongst themselves and with third parties to accelerate new product launches while navigating burgeoning compliance requirements. What role can technology play? In this blogpost we explore how low-code software platforms can enable a competitive advantage learning from the experience of one of the largest Pharmaceutical companies in the world.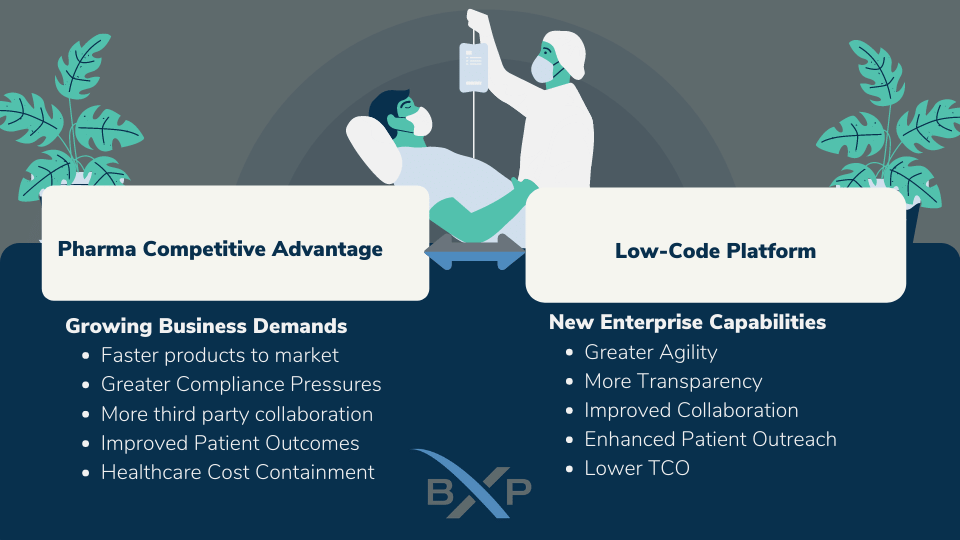 5 key Imperatives for Pharma
Agility: Pharma leaders are increasingly turning to the concept of agility to help them navigate a volatile, uncertain and complex external environment2. COVID 19 has challenged the sector to explore innovative ways to produce new drugs faster and cheaper. Pharma leverages "Agile" practices from the Tech industry to do more rapid prototyping of new drug concepts and "fail fast" to get to the finish line quicker with the right candidates. With a low-code platform, companies can quickly put in place automated workflows to approve new concepts and tailor the priorities as more information becomes available.
Transparency: As Pharma aspires to move new drugs faster through their development pipelines, they must also recognize the greater demand for transparent data, policies and operations. Regulations change depending on product categories, delivery mechanisms and legal jurisdictions. For example, when preparing to publish in peer review journals, rigorous debarment checks and review of authorship agreements are essential. Furthermore, regulatory requirements are constantly changing. It is important to select an automation platform that can handle the complexity of Pharma while also providing the necessary audit tracking.
Collaboration: Expiring patents and a tight regulatory environment are just some of the issues that are hoped to be resolved through forming partnerships across the industry, academia and even with competitors. There is also need for greater collaboration between public and private sectors so that we can combine capabilities and experiences. For example, the launch and distribution of the COVID 19 vaccine saw collaboration between, J&J and Merck, Oxford and Astra Zeneca and Pfizer and BioNTech. Geographically dispersed teams both within and outside of an organization can work together using tools such as Collaborative Document Authoring and Management. It is important that data privacy, version and audit tracking ensure the integrity of any work products of such a collaboration. Learn more about our compliance capabilities here.
Patient Outreach: Patients are emerging as an important decision maker in healthcare. Medical Affairs must develop a deep understanding of patients' needs that encompass the patient insights from different healthcare stakeholders. This will require a more flexible engagement model that utilizes multiple channels including mobile and social media. Does your automation provide you the capability to have compliant communications across multiple channels?
Cost Containment: US healthcare costs increased from 5% of GDP in 1960 to 18% in 2018. The Centers for Medicare and Medicaid Services (CMS) project that by 2028, such costs will climb to $6.2 trillion, or about 20 % of GDP. How does your choice of a workflow automation platform help you maintain a consistent focus on optimizing medical value across the product lifecycle? Does your platform provide you better visibility into your process bottlenecks in a real time fashion? Do you have a spaghetti of multiple applications adding to your cost of managing processes? Can you consolidate some of these applications and invest the savings in areas that help you make your processes more agile and compliant?
Click here to learn how a Low-Code Platform can help you gain the competitive edge in Pharma.