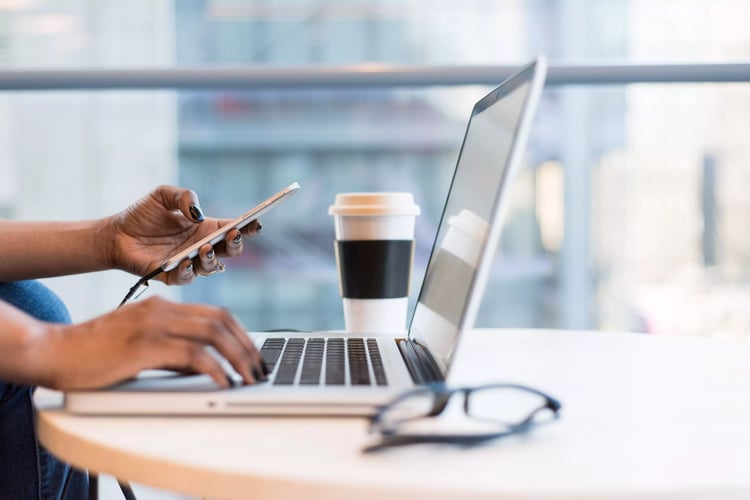 Modern institutions are realizing significant advantages from low code development, an approach to building software which allows non-developers to build applications in a visual, drag-and-drop environment with components for different types of functionality. Low-code platforms have enabled the rise of a business analyst support system who can direct application priorities by abstracting the typically complex coding tasks associated with programming by using reusable components. Innovative college and university IT teams are taking advantage of low-code platforms to improve process automation and derive significant ROI from their technology investments, and it's changing how they build for the future.
By employing low-code capabilities that enable non-developers to connect various stakeholders and implement sophisticated functionality, users and teams realize greater efficiency. Essentially, those closest to the problems can now have the greatest impact at solving those problems. In higher education, solutions are wide-ranging, and low-code allows schools to benefit from:
Automating processes, integrate apps with existing systems, and easily connect to data from multiple sources so information and functionality render in a single user experience. Each instance of building a connector can cost as much as $25,000 in developer expenses when using traditional methods.
Optimizing ROI from legacy applications to deliver better user experiences and increase user adoption.
Designing and building best-in-class apps that can be deployed when needed. Provide the ability to iterate and improve as needed.
Recognizing and delivering solutions for all aspects of the university experience. This includes things like HR management, student recruiting, facilities and operations, and alumni relations.
Migrating applications from on-premises to the cloud.
Delivering applications in mobile formats to increase usage for students, faculty, and school staff.
Low-code solutions like Process Director give users a highly visual dashboard and software components that can be used to create an application without having to use code. The combination of rapid development capabilities along with the low-code approach offers enterprises the ability to build, deploy, and iterate quickly. Additionally, it provides ways to identify deep insights into usage and performance of applications.
Higher Education Technology Transformation
In higher education, using a low-code approach is about much more than just the applications themselves. It can save schools money, improve how IT resources are used, and deliver services to better meet the ever-changing needs of the 21st Century university student, faculty members, and staff. These things, in turn, make schools more competitive and economically viable.
This is important for colleges because they operate according to prescribed schedules — admissions, registration, financial aid, and the routine of the quarter or semester system. It's difficult to innovate when the next milestone is right around the corner. Having to adhere to the typical application development lifecycle is slow and typically results in solutions that can be obsolete before they even become available. However, by building and delivering quickly, and with reusable components, university stakeholders can not only deliver fast, but IT teams and departmental groups can iterate and update applications continuously.
Low-code process automation provides a foundation for all university processes, and operates as the engine that moves the student through their journey from first point of contact, all the way through graduation.
Process Management and Workflow for Higher Education
In a university environment, admissions, financial aid, HR, and all departments are using Process Director to effectively manage the complex processes involved with operating a school and delivering effective services. Higher education institutions are able to deploy Process Director to help them meet business-level goals for things like student outcomes, effective recruiting, employee management, and facilities-related operations. It also supports IT goals like integration, process efficiency, and repeatability.
Institutions use Process Director to automate services delivered according to a school's specific requirements. An example is its digital process automation capabilities, which enable the efficient processing and reviewing of applications across all necessary admissions counselors and administrators. As the application process has become more competitive and rigorous, students are required to provide more data points to make their case and stand out from other applicants. Consider that the University of California at Los Angeles (UCLA) received 102,242 student applications in 2017, each of which required analysis and processing, all within a 3-4 month timeframe. Building the application framework to support this scale of automation cannot be done in normal development timelines. Low-code changes how a school like UCLA would be able to adapt to increased demand through effective process automation.
The Importance of Process Automation for Colleges and Universities
Low-code equips teams to build applications that work in a human-directed work style. Process Director encourages this innovative approach through things like:
Document and forms management: Consider how students submit all manner of documentation in the course of their time on campus. And employees use a variety of forms in order to be hired in the course of their time as employees. Schools like the University of Central Florida Global deliver low-code solutions to ingest and make sense of things like transcripts, test scores, recommendation and letters for students. For employees, it manages applications, personal data, benefits information and a variety of other types of documents. Some of these are submitted and stored digitally, while some are delivered in paper form. Process Director is able to digitize these documents and include them in individual files. This eliminates outdated and inefficient processes like managing files through email attachments and paper-based artifacts. The result is more context about students and other stakeholders, provided through validated documents. Process Director also enables sharing of information with trusted decision-makers so that milestones in the process can be made with greater efficiency.
Application integration: The student and potential employee application submission is the first touch point with the university, and kicks off processes that will lead to admissions or employment. Process Director uses built in connectors for a variety of ERP systems, and allows users to construct forms that can pull and deliver data that can be useful for things like financial aid and scholarships, housing, and registration for students, and things like hiring and benefits administrations for employees.
Decision-making, enhanced with workflow: Process Director uses the following innovations that make it a first choice for many colleges and universities:
Attractive, web-based, and responsive user interaction;
Built-in support for multiple languages, locales, and cultures;
Easy integration with a broad array of databases, web services, and applications;
Directory synchronization with LDAP, Active Directory, and Windows network security;
Full integration with federated authentication services, including Oauth and SAML.
Strong encryption of data at rest, and data in-flight;
Digital signature of documents;
Granular permissions structure, with temporary privilege escalation.
Many colleges and universities rely on outdated systems that cannot support schools' desires to meet the competitive needs of 21st Century organizations. While there is an increasing need to move fast and address specific needs, the low-code capabilities of Process Director can provide digitally transformative education solutions that facilitate efficient management and streamlining of processes.
An article in Educause summed it up nicely, "The digital transformation of higher education is at hand. Leaders must prepare their institutions now to take strategic advantage of the coming shifts in culture, workforce, and technology."