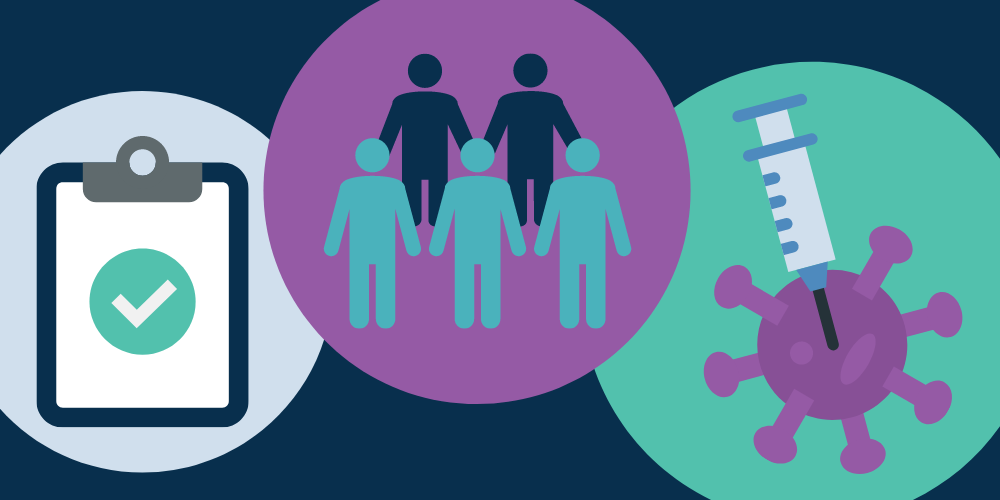 As employers with 100 or more employees join healthcare facilities and K-12 schools in efforts to comply with the federal COVID-19 vaccination and testing requirements, professional employer organizations (PEOs) are facing some interesting questions about their role in this situation.
Let's examine the some of the hurdles that co-employers must overcome in light of recent government mandates and executive orders.
1. The burden of responsibility
PEOs provide comprehensive HR services to small and mid-size businesses (SMBs) through a legal arrangement known as co-employment. Under a co-employment partnership, the PEO take on the management of HR functions (payroll, employee benefits, taxes, etc) and assume a share of employer liability and responsibility for employment risks. By outsourcing most (or all) of their HR activities, business owners can reduce costs and focus their efforts on growing their business, revenue, and customer base.
What this means is that the company's employees are also legally employees of the PEO, which begs the question:
If PEOs legally share the role of employer with their clients, are they on the hook for ensuring their clients' employees comply with vaccination and testing mandates?
At the moment, it's unclear what level of responsibility PEOs should expect to bear when it comes to vaccination mandates, which brings us to the second challenge:
2. Becoming an expert in vaccination compliance
PEOs do more than simply handle payroll and send out annual W2s. They also regularly serve an advisory role to their clients for matters involving compliance and labor regulations.
Do PEOs have a plan for helping their customers navigate vaccine mandates and implement processes that reduce employee anxieties? They ought to. Companies involved in a co-employer partnership will be looking to their PEO for guidance and resources on how best to handle his uncharted territory. After all, it's a pretty complex task to confirm the vaccination status of a company's workforce and set up weekly testing for employees who are not fully vaccinated.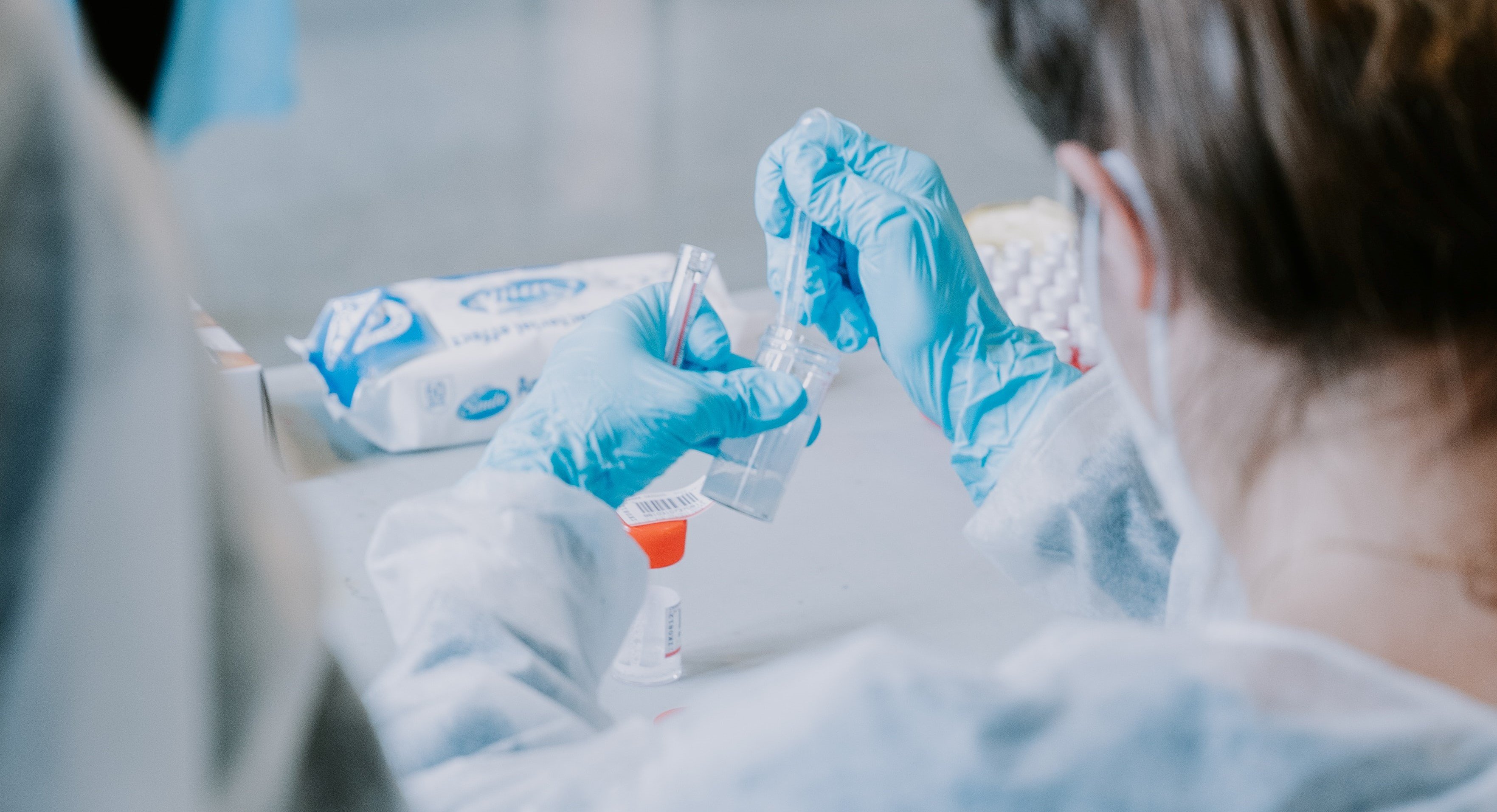 PEOs will not only need to have a firm handle on federal and state mandate requirements – they must also be ready to provide their clients with a solution for tracking employee vaccinations and tests. If PEOs don't have one at the ready, they should at the very least be able to direct their clients to a solution so that no one has to resort to the dreaded task of tracking vaccinations via spreadsheet.
3. Retaining clients and winning new business
It's no secret that the pandemic drastically changed the nature of work and commerce. Businesses must adapt, and PEOs are no exception. As vaccination mandate deadlines close in, PEOs must make sure they are investing in digital tools and infrastructure that keep existing customers ahead of the compliance curve while also enticing potential new business to sign on the dotted line.
Tools for tracking vaccinations and tests are a prime example. If PEOs can't provide the necessary support and guidance to customers as they navigate vaccination mandates and other COVID-related policies, that could be a major dealbreaker for both current and potential customers.
Some larger players in the PEO industry know this and have already taken steps to adapt to rapidly shifting market needs by rolling out some simple vaccine tracking solutions for their clients or partnering with companies like BP Logix to provide a solution.
4. Identifying the best vaccine tracking solution for PEOs
Before we dive into what makes an ideal vaccine tracker for PEOs, let's first take a step back and talk about vaccine applications broadly.
Numerous applications for proving vaccination and testing status have rolled out over the past year, but there is no "one size fits all" solution. Why? Well, the end user goals of one vaccine status app may be completely different than the end user goals of another vaccine status app.
For example, while vaccine passports are incredibly useful for providing proof of vaccination on an individual basis (such as getting through the airport to catch flight to Hawaii), they don't serve quite the same function as a vaccination tracking application for private employers, which boils down to trying to ensure compliance of mandates and manage large quantities of data collected from hundreds or even thousands of employees.
With those goals in mind, a vaccination tracking app designed specifically for employers should offer the following features and benefits:
It should be accessible and mobile-friendly.

It should have workflow trigger for handling exemption requests and testing for unvaccinated people.

It should be simple to pull vaccination and testing data to prove compliance to regulatory bodies.

It should be flexible to scale with your organization as policies shift or expand.

It should be ready for rapid deployment in order to meet mandate deadlines.
5. Rolling out a vaccine tracking solution to client companies
When it comes to choosing a vaccine tracking solution, PEOs have an even more complicated task than independent employers. Not only must they find a solution that offers all of the features listed above, but they must also be able to roll it out to multiple co-employer clients at a reasonable cost.
BP Logix's Vaccine Tracker app accomplishes this additional challenge with its multi-tenant model.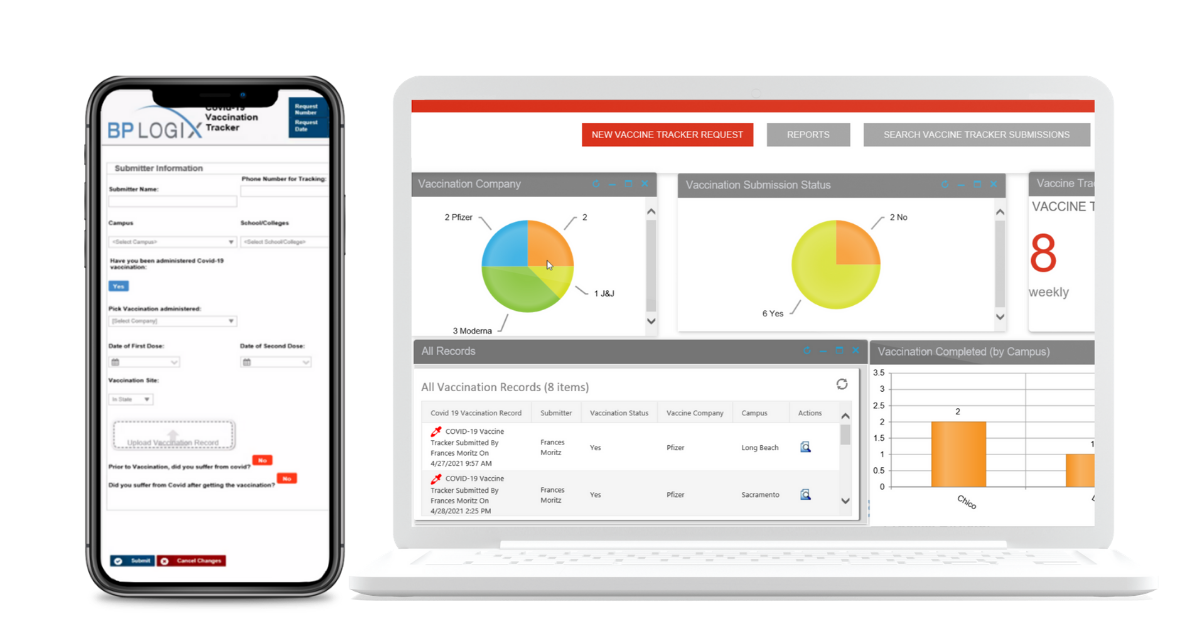 How? It all comes back to how co-employer partnerships work. In order to carry out their responsibilities within the arrangement, PEOs require their customers to provide them with access to employee information and core HR systems. BP Logix's multi-tenant model is able to leverage this technical arrangement for the Vaccine Tracker app to provide PEOs with lower pricing at scale, as well as the following benefits:
Partitions between client companies and their data
Customizable app configuration per client company
Personalized in-app branding
Ready to learn more about our vaccine tracking solution for PEOs?
Schedule your customized demo of BP Logix's Vaccine Tracker app today.