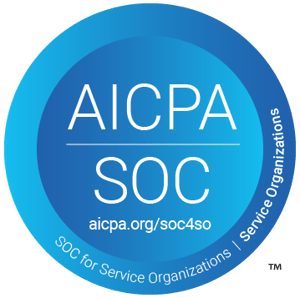 Company Meets Standards Criteria Set Forth by AICPA
San Diego, CA– July 1, 2019 ––BP Logix, provider of low-code/no-code BPM solutions for rapid digital application development, today announced that the company has obtained SOC (System and Organization Control) 2 Certification. The Certification was awarded to BP Logix after independent auditing firm, Auditwerx, examined the company's procedures and processes and found BP Logix to meet all standards based on the criteria set forth in TSP section 100 by the American Institute of CPAs (AICPA).
SOC 2 certification ensures that control objectives and activities have been extensively tested for operational excellence, and provides BP Logix customers with the assurance that the company is committed to ongoing client security and sound business practices.
SOC 2 is based on policies, communications, procedures and monitoring. In order to successfully achieve certification, the following specific Trust Service Principles must be met:
Security: Information and systems are protected against unauthorized access and damage to systems that could compromise the integrity and confidentiality of information ;
Availability: The system is available for operation and use as committed or agreed;
Processing Integrity: System processing is complete, accurate, timely and authorized;
Confidentiality: Information that is designated as "confidential" by a user is protected; and
Privacy: Personal information is collected, used, retained and disclosed as it meets the operation's objectives.
SOC reports, used to evaluate the controls within an organization as they relate to risk assessment, financial reporting, and other key areas, helps ensure compliance with financial regulations including Sarbanes-Oxley.
"BP Logix has always been committed to providing the highest possible service to our customers," said Jay O'Brien, CEO of BP Logix. "Ensuring the highest level of availability, security, and consistency in our operational practices and procedures is a key achievement and demonstrates the importance we place on our customer relationships."
About BP Logix
BP Logix, headquartered in San Diego, pioneered predictive business process management (BPM) with its many patented innovations, empowering individuals and teams to rapidly develop, deploy, and enhance critical digital applications. The company's flagship product, Process Director, is an AI-enabled, low-code/no-code development platform for custom digital applications.
Customers including Barclay Damon, the City of Fort Worth, IDEX, Leo Burnett USA, Memphis Light, Gas and Water, MultiPlan and University of Central Florida rely on Process Director innovations such as machine learning and fully integrated case management, and its broad integration with Azure IoT Hub, social media, and enterprise applications and services in the Cloud and in the datacenter. Process Director enables customers to rapidly build and enhance end-to-end, digital applications that deliver clear and measurable improvements in productivity, compliance, and customer engagement.
The BP Logix name and logo are the registered service and trademarks of BP Logix, Inc.