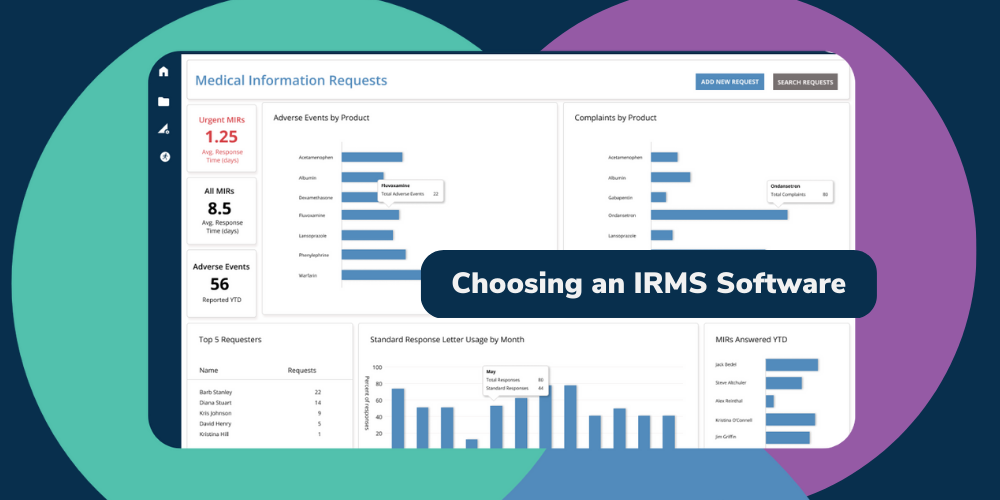 Medical information request management is undoubtedly one of the most important functions of medical affairs teams that operate within the life sciences space.
Be that as it may, processing medical information requests (MIRs) has, historically, proven to be a challenging, tedious, and time-consuming task that ties up essential resources and exposes pharmaceutical entities to compliance issues, which can lead to fines, reputational damage, and other penalties that threaten profitability and business continuity.
Fortunately, organizations that produce pharmaceuticals and medical devices can mitigate these risks by implementing a versatile information request management system (IRMS) solution. Modern IRMS software empowers organizations to rethink how they handle medical information requests, promote efficiency, and facilitate compliance.
With that said, there is a sizable number of IRMS software solutions on the market today, which can make it difficult for life science entities to find the right platform for the needs of their organization. To help expedite your search, we're walking through some must-have features and attributes to look for when exploring IRMS software for your company.
What are medical information requests?
MIRs are self-initiated, unsolicited requests made by a healthcare professional and submitted when a clinician or other healthcare professional needs to obtain technical, scientific, or medical information about a product that is not readily available in its instructions for use (IFU) or initial prescribing information.
There are several different types of MIRs, including adverse event reports (AERs), product complaints, general requests for information, and notifications about potential off-label effects or uses. Due to the broad scope of MIRs, it is important that all inbound requests are quickly reviewed, categorized, and assigned to the appropriate medical affairs team members.
Why manual MIR processing falls short
Medical information requests are commonly received via shared inboxes and subsequently tracked via spreadsheets, but any organizations that have used or are currently using such an approach can attest to its inefficiency.
When multiple team members are using the same inbox to receive and process inbound requests, it is all too easy for MIRs to slip through the cracks. Similar issues arise when medical affairs personnel are tracking dozens of MIRs at once, with spreadsheets that are scattered about their organization's network.
For instance, let's say that your team uses both spreadsheets and a shared inbox. When the medical affairs team returns to the office on a Monday morning, they have several dozen new MIRs in the joint inbox, which means that each team member is assigned to handle a specific type of request (adverse events, general requests, etc.).
As each staff member begins filtering out the requests that fall under their purview, the individual that is tasked with responding to general MIRs accidentally moves an AER to their personal inbox. They don't notice their mistake until the following day, at which time they reroute it back to the shared inbox. However, since the message is already showing as "read," the team member tasked with handling AERs does not see the message for several days, resulting in a delayed response to a time-sensitive MIR.
When your organization bases its MIR processing protocols around such antiquated technologies and procedures, even if they're detail-oriented, talented medical affairs teams are bound to make these sorts of mistakes on occasion. Even a single oversight can lead to serious financial consequences and set the stage for irreparable damage to your organization's reputation. Therefore, automating the MIRs of your life sciences entity with IRMS software should be a top priority.
Automating MIRs with IRMS software
Manually handling MIRs only serves to bog down medical affairs teams and limit their productivity. Additionally, inefficient manual MIR processes diminish the experience of healthcare professionals and their patients, creating compliance headaches and making it nearly impossible for teams to respond to requests in a timely manner.
Fortunately, organizations in the pharmaceutical and medical equipment sectors can circumvent these issues by adopting IRMS software.
These technology suites include tools that enable medical affairs teams to automate traditionally manual, tedious MIR-related tasks, such as report intake and analysis. The most robust IRMS software solutions also assist with categorizing, prioritizing, and responding to medical information requests, thereby streamlining every touchpoint of MIR processing.
With IRMS software, medical affairs teams will no longer be inundated with a seemingly endless list of pending MIRs. Instead, they can effortlessly respond to each request, generate detailed reports, relay information to healthcare professionals, and ensure compliance with relevant regulatory requirements.
Benefits of an IRMS software
The benefits of IRMS software are significant and far-reaching. By implementing such a solution, organizations in the pharmaceutical and medical equipment industries can achieve the following:
Improve efficiency
Using inefficient processes, like using a shared inbox to receive requests or leveraging spreadsheets to track outstanding MIRs, sets the stage for delayed responses and missed deadlines, which can cause frustration among healthcare professionals, endanger patients, and diminish trust in an organization.
An IRMS software solution can improve end-to-end MIR processing efficiency by providing medical affairs teams with the tools and technology they need to maximize productivity. They can automate intake processes, categorize and prioritize inbound MIRs in seconds, and distribute each request to the appropriate staff member, making missed requests and delayed responses a thing of the past.
Enhance compliance
The pharmaceutical and medical device sectors have long been, undoubtedly, some of the most tightly regulated industries. In recent years, state and federal authorities have enacted even more stringent regulations, which not only raise the bar for compliance but also include severe penalty schedules for violators.
IRMS software can help ensure compliance with state and federal regulations by facilitating timely, transparent, and efficient responses to medical information requests. Upon receiving a request, medical affairs teams can quickly begin processing the MIR and conveying the appropriate information to the submitting healthcare professional.
Furthermore, IRMS software supports additional compliance by providing teams with analytics tools they can use to monitor and improve the efficiency of their MIR processes.
Facilitate better data management
Tracking medical information requests with spreadsheets creates data silos and leads to a lack of MIR visibility. In other words, MIRs can end up overlooked, misplaced, or outright lost, and when that happens, medical affairs teams are bound to provide delayed responses or relay inaccurate or otherwise incomplete information to those requesting it.
Transitioning to a centralized IRMS software solution will facilitate better, more transparent data management. Medical affairs teams, compliance personnel, and decision-makers will be able to easily view how many MIRs are in the pipeline, what the status of each request is, and other important factors. They can then use that information to ensure that response deadlines are met while also monitoring the efficacy of MIR processes.
What to look for when choosing an IRMS solution
Investing in an IRMS solution is a major decision that will have a profound impact on patient and healthcare professional experiences. The platform that your team chooses to implement will also affect compliance, which is why you must carefully evaluate each prospective IRMS software before settling on a solution.
Therefore, as you search for IRMS software for your organization, you should consider a wide range of factors and attributes that include the following:
Customizability
While the general process of responding to MIRs is relatively standardized, the needs of every medical affairs team are unique. Therefore, it is important that you select IRMS software that can be tailored to align with your team's structure, objectives, and needs.
The ideal IRMS software or platform for your organization will allow you to customize several aspects of the user experience. Specifically, you should choose a solution that allows you to modify workflows, create custom data fields, and augment the dashboard to provide a more seamless user experience.
User-friendliness
Speaking of the user experience, the best IRMS solutions are exceptionally user-friendly, though it's important to note that some options out there are clunky, tedious to use, and downright complicated.
If you implement IRMS software that falls in the latter camp, you will experience diminished employee buy-in and a reduced return on your investment.
On the other hand, when your new platform is intuitive and easy to use, your team will experience a shallower learning curve, be more accepting of the software change, and will embrace the tools you provide them with. On a broader scale, adopting user-friendly IRMS software will decrease your time to value and boost your ROI.
Integrations
One of the biggest challenges associated with traditional MIR management is a lack of data visibility. When your medical affairs team uses disparate software to manage its MIRs, visibility is poor, and errors occur far too often.
With that in mind, tearing down data silos and promoting total MIR visibility are both vital if you want to streamline your medical information request management processes, and to achieve those goals, you need an IRMS software solution that seamlessly integrates with your existing technology stack.
Before you commit to a solution, though, make sure it is compatible with your customer relationship management (CRM) software and other database systems, as well as your email and collaboration tools. Such a solution will be able to share vital data with your other systems and empower your staff to optimize productivity.
Compliance
Your IRMS software should also support your compliance efforts. Choose a solution that provides various compliance and governance tools so that you can closely monitor and regulate your medical information request management processes. In particular, you should use IRMS software that features audit trails, permission controls, and a notification system that updates you on the latest regulatory changes so you can ensure adherence.
Reporting and analytics
Implementing an appropriate IRMS software solution and modifying your medical information request processing protocols will help promote compliance and improve efficiency.
However, it is important to closely monitor the efficacy and performance of your MIR processes on an ongoing basis, and selecting an IRMS solution that provides robust reporting and analytics capabilities will help you do exactly that. You can leverage the insights from these reports to identify potential pain points, further promote efficiency, and deliver a frictionless experience for healthcare professionals.
Security
In addition to responding to MIRs in a timely manner, your organization is also tasked with protecting sensitive medical data. Failing to do so can lead to severe reputational damage and hefty civil penalties.
Unfortunately, antiquated MIR management tools, such as shared inboxes and spreadsheets, not only leave the door wide open to security breaches but also increase your exposure to cyber threats.
A modern, cloud-based IRMS solution can support your cybersecurity strategy and help you avoid these challenges. Maximize your security by choosing a platform that offers features such as user authentication, access controls, and encryption, as each of these will help you ensure the confidentiality and integrity of the information you manage.
Transform your MIRs management processes with MIRador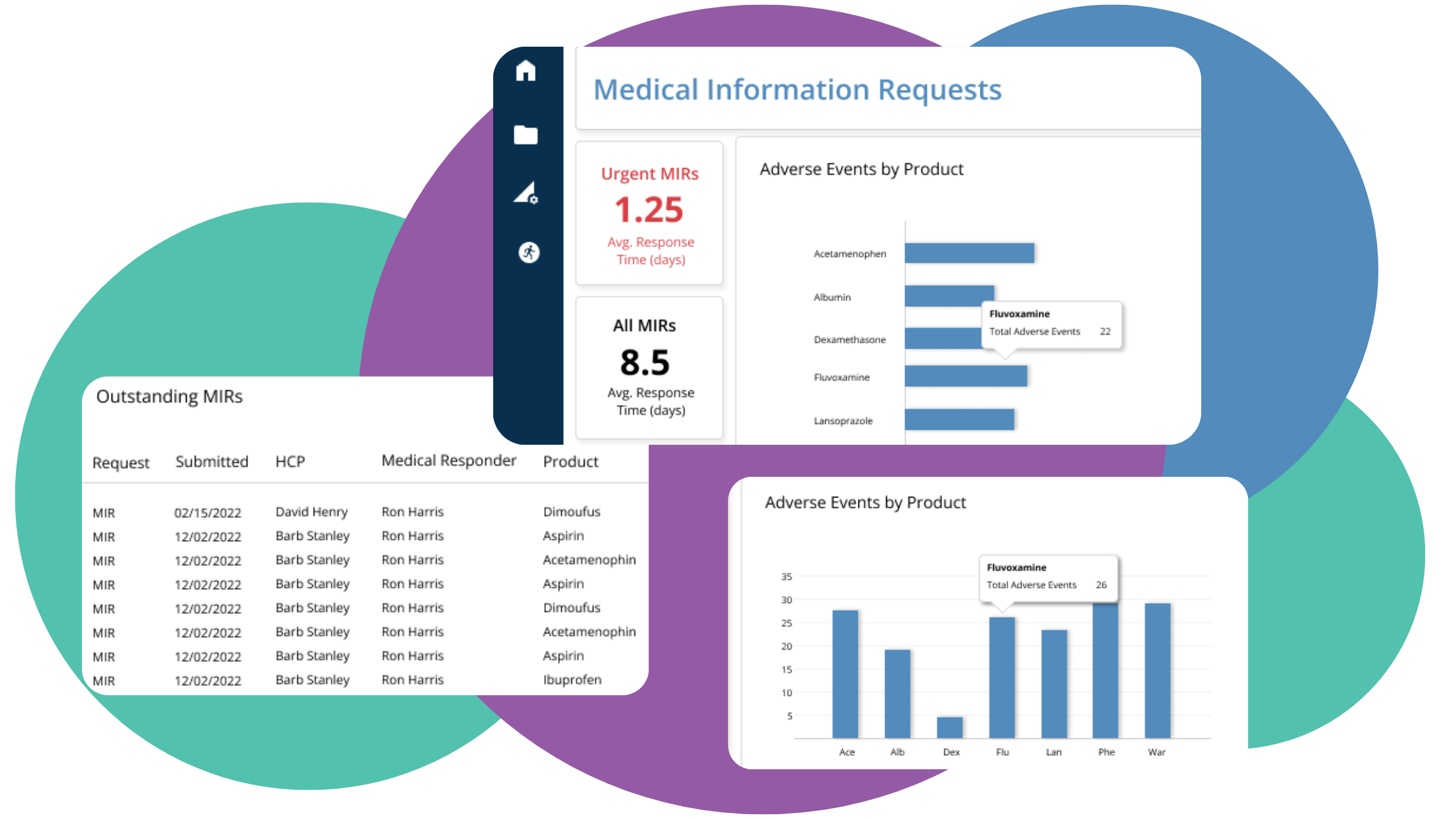 Without the right tools in place, your medical affairs teams will become overwhelmed by the complexity and sheer volume of MIRs that they receive. If your pharmaceutical entity wants to position your teams to succeed while simultaneously promoting compliance, you need IRMS software.
Investing in an IRMS software solution can help you streamline the medical information request management process and unlock other benefits, including:
Better data management
Enhanced compliance
Improved efficiency
Optimized visibility
However, if you want to get the most out of your investment and expedite time to value, it is critical that you select a solution that is customizable, user-friendly, and robust.
MIRador provides the tools and capabilities your medical affairs team needs to facilitate compliance and optimize overall MIR handling efficiency.
When discussing our IRMS software, a senior pharmaceutical executive had the following to say:
"Every company does MIR differently. Some companies have dedicated medical information teams, while small to midsize companies might not have a dedicated person in that role. Having established best practices and a technological foundation for collecting and processing this information is critical. Any organization that is looking for a medical information solution should consider BP Logix as an option."
If you would like to learn more about the purpose-built solution that was delivered for this executive, and many other entities in the life sciences space, book a call with BP Logix today.