The advertising industry long ago shed the style dramatized in "Mad Men"— and the same can be said about the ad agency workflow process of old. Rather than Scotch-fueled strategy sessions, ad agency conference rooms are now more likely to be occupied (and surrounded by) iPads, tablets, smart phones and the ever-present latte.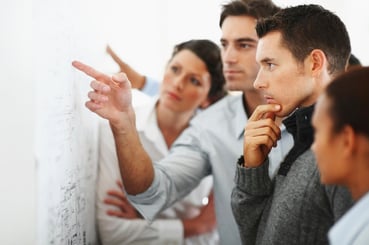 What has not changed is the strict focus on the needs of the clients. As a service-based business, ad agencies can only grow when they have built a solid reputation for delivering on strategies that make their clients successful.
The unveiling of new designs and ad concepts is highly visual —and evokes an immediate response. Clients have come to expect and appreciate that. The ad agency workflow for each project includes decisions, actions and tasks that enable a campaign to be highly successful are the invisible, but crucial, pieces that need constant attention for the ad agency.
In order for an ad agency to "get it right" for their clients, the creative process calls for the right people to collaborate. Additionally, there is a cast of others who provide review and approval for copy, budget, staffing etc. Every action has an impact, and when there are problems, they can lead to delays. In a deadline-driven, "get-it-done-yesterday" environment, time and decisions are of the essence and there is a premium placed on reducing bottlenecks. Business process management provides a huge advantage in streamlining the efforts of ad agencies and media companies.
For the advertising industry, one of the most noticeable areas that workflow successfully addresses is marrying a digital structure with a traditionally paper-based environment. Even today, most ad agencies rely on forms and paper to drive internal processes. Reviews, sign-offs, decisions and client expenditures are among the many elements of daily life in advertising. And as client demands grow, it becomes increasingly more challenging to keep up due to inefficient processes.
Moving from a paper-based environment to an ad agency workflow solution like Process Director smart forms means that stakeholders can easily access vast numbers of forms and data— and these documents can then become part of an integrated approval workflow that helps to manage content, ensure collaboration and provide access to information needed for decision-making.
Lag time in decision-making creates delays which stymies the ability to deliver concepts to clients and execute a tight project plan. With ad agency workflow software, an organization can start to rely on an automated set of processes for tasks, routing of content, approvals and decision-making. Rather than requests sitting in in-boxes, alerts, rules and notifications can be created to streamline and automate the process. Workflows enable organizations to be flexible and accountable as they seek to meet the demands of their stakeholders.
Leo Burnett, a BP Logix customer, provides an example of why routing and rules-based workflow is so important. Two members of the team that implemented Process Director, said, "We needed and ad agency workflow solution to route estimates for the work that every client requests from us - and for every brand and sub-brand. All estimates we create on behalf of clients must go through a process. Additionally, we need to update estimates along the way and to set up rules based on brand and dollar amount – and to control the process."
It is easy to see that, without a foundation and an ad agency workflow system for creating and updating processes, internal stop-gaps could easily prevent an agency from meeting deadlines and delivering its best work.
Producing higher quality materials under ever-tightening project deadlines, integrating new technologies and becoming both more agile and collaborative are some of the benefits of workflow. In an industry that relies heavily on relationships, the more important benefit, however, comes in the form of accountability to its clients.
Learn more: