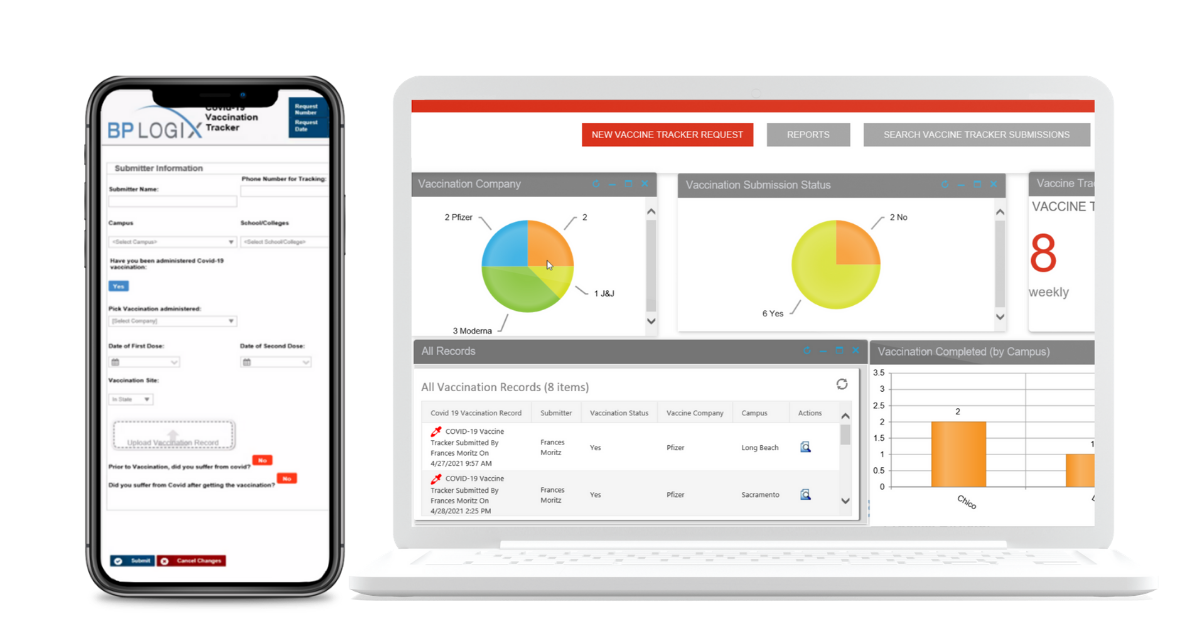 SAN DIEGO, CA – With the FDA's approval of the first COVID-19 vaccine and the resulting increase in state and federal vaccination mandates, many U.S. employers are turning to BP Logix's Vaccine Tracker app to confirm and report on employee vaccination status and foster a safer return to the workplace.
The Vaccine Tracker app is a flexible, mobile-friendly solution that enables employees to securely share proof of their vaccination status with their employer. For employees that are not fully vaccinated, the app can automatically handle exceptions by triggering workflows for weekly diagnostic testing, medical/religious exemption requests, and other escalation tasks.
"The trick to successfully collecting the vaccination records of hundreds or even thousands of people? Make it as easy as humanly possible," explained Girish Pashilkar, CEO of BP Logix. "That's what we aimed to do with this app. We've streamlined the vaccination confirmation process with a simple, intuitive form that can be accessed on any device – from desktops to smartphones."
All data from the Vaccine Tracker app seamlessly integrates into existing digital data sources, including human resource information systems (HRIS), student information systems (SIS), enterprise resource planners (ERP), etc. Managers have access to a robust reporting dashboard that makes it easy to prove compliance with workplace policies or government mandates.
The app can be easily customized to suit the needs and compliance requirements of a variety of workplaces, including K-12 schools, colleges and universities, manufacturing plants, government facilities, retail establishments, private offices, and more.
"The unpredictable nature of the pandemic means policies and needs can shift without a moment's notice," Pashilkar said. "We designed the Vaccine Tracker app to adapt to your company's changing requirements so that business leaders and managers can respond quickly to new developments and scale accordingly."
To learn more about BP Logix's Vaccine Tracker app or request a free demo, please visit: https://www.bplogix.com/vaccine-tracker.