Alliance Provides Framework for Digital Transformations

San Diego, CA – March 5, 2018 –– Technologent, a Global Provider of IT, Data, Cloud and Security Services, and BP Logix, provider of low-code/no-code BPM solutions for rapid digital application development, today announced a strategic partnership. The relationship, which is based on Process Director and its Process Timeline™ technology, will facilitate digital transformation and low-code / no code BPM enterprise solution development for Technologent customers worldwide, empowering them to achieve the fastest time-to-value.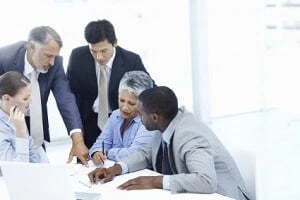 Process Director is an easy-to-deploy, business-friendly BPM software solution enabling analysts and non-programmers to create engaging, end-to-end digital applications. Process Director's award-winning predictive, AI-enabled architecture paves the way for a smooth and powerful journey to digital transformation.
"Technologent strives to deliver IT solutions that ensure a leaner, more agile business model for our customers," stated Heather Gonzalez, VP, Marketing and Strategic Alliances. "The ever-expanding requirements of global customers for digital transformation led us to partner with BP Logix. Our alliance with BP Logix offers customers a significant advantage as they transform their businesses for the digital age," she observed.
"Process Director's out-of-the-box offering facilitates the digital transformation that partners, and their customers, are seeking – and does so with the fastest time-to-value," stated Jay O'Brien, CEO of BP Logix. "Our goal in partnering with Technologent is to provide the quickest opportunity for customers to make the transition to an exciting and rewarding digital world."
About Technologent
Technologent is a leading provider of enterprise-class technology solutions for Fortune 1000 companies. We focus on data center infrastructure, cloud, monitoring, automation and security --- the foundations of today's IT environment. By providing custom solutions and services, we make your organization more agile, responsive and competitive. Our experienced engineers are fully certified, and we continually invest in training to keep current the latest technologies; enabling your company to ascend to the next level in IT.
About BP Logix
BP Logix unites IT and business users enabling them to deploy sophisticated digital business solutions in a fraction of the time and a fraction of the cost of traditional development. Our award-winning business process management (BPM) software powers workflow-driven solutions that cross organizational boundaries, embracing the C-suite, operations, sales, customers and prospects.
Customers including Barclay Damon, the City of West Allis, IDEX, Leo Burnett USA, Memphis Light, Gas and Water, MultiPlan, Starwood Hotels and Resorts, University of Central Florida and Vulcan Materials Company rely on Process Director's full mobile support; SharePoint, MS Dynamics and MS Office integration. In conjunction with its social media support, Process Director enables customers to build award-winning applications that deliver clear and measurable improvements in productivity, compliance and customer engagement.
The BP Logix name and logo are the registered service and trademarks of BP Logix, Inc.
Media Contact:
Ingrid Andrews
Andrews Marketing
760-613-2039
ingrid@andrewsmarketingpr.com
Marti Colwell
BP Logix
760-643-4121 ext. 3250
marti.colwell@bplogix.com
Heather Gonzalez
Technologent
949-522-3018
heather.gonzalez@technologent.com