Company Recognized for Innovative Technology for Ninth Consecutive Year

San Diego, CA – March 8, 2018 –– BP Logix, provider of low-code/no-code BPM solutions for rapid digital application development, today announced that it has been named to the 2018 KMWorld 100 Companies That Matter in Knowledge Management. The annual list represents the 2018 industry leaders, all of whom are being acknowledged for helping to either create, redefine or enhance a market—and all share in the velocity of innovation.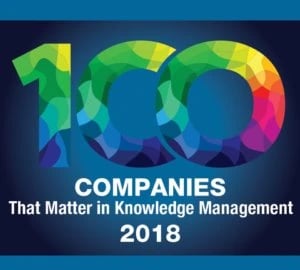 "The organizations named this year to our list of 100 Companies That Matter in Knowledge Management have captured and sustained our interest through their functionality, success with clients and innovation," says KMWorld Editor Sandra Haimila. "When we look at the technologies they offer, we are awed by the progress, excited by what the future will bring and confident they will enrich our lives. The companies we have chosen for our 2018 list have proven their business value to customers. We are impressed."
This recognition builds on key milestones:
Product Innovation: Process Director is an easy-to-deploy, business-friendly BPM software solution enabling analysts and non-programmers to create engaging, end-to-end digital applications. Process Director's award-winning predictive, AI-enabled architecture paves the way for a smooth and powerful journey to digital transformation.
New Partner Program: BP Logix APPx applications are advanced digital solutions based on Process Director's rapid application development environment. Targeting specific vertical or horizontal markets and functioning as a collaborative ecosystem to serve joint customers, the program enables managed service providers, business process outsourcing vendors, systems integrators, and other digital technology service providers to drive digital transformations for their clients.
"We are pleased to be recognized for offering a platform that so effectively supports and enhances digital transformation," stated Jay O'Brien, CEO of BP Logix. "With the rapid adoption of AI and machine learning, combined with the explosion of the Internet of Things, the role of Process Director is being expanded to provide the load-bearing infrastructure that companies need to learn from and act on business information."
A complete list of the award winners can be found in the March/April print issue of KMWorld Magazine.
About KMWorld
KMWorld is the leading publisher, conference organizer, and information provider serving the knowledge management, content management, and document management markets. KMWorld magazine and its digital marketing resources reach more than 50,000 information and knowledge management professionals. They are a publishing unit of Information Today, Inc.
About BP Logix
BP Logix unites IT and business users enabling them to deploy sophisticated digital business solutions in a fraction of the time and a fraction of the cost of traditional development. Our award-winning business process management (BPM) software powers workflow-driven solutions that cross organizational boundaries, embracing the C-suite, operations, sales, customers and prospects.
Customers including Barclay Damon, the City of West Allis, IDEX, Leo Burnett USA, Memphis Light, Gas and Water, MultiPlan, Starwood Hotels and Resorts, University of Central Florida and Vulcan Materials Company rely on Process Director's full mobile support; SharePoint, MS Dynamics and MS Office integration. In conjunction with its social media support, Process Director enables customers to build award-winning applications that deliver clear and measurable improvements in productivity, compliance and customer engagement.
The BP Logix name and logo are the registered service and trademarks of BP Logix, Inc.