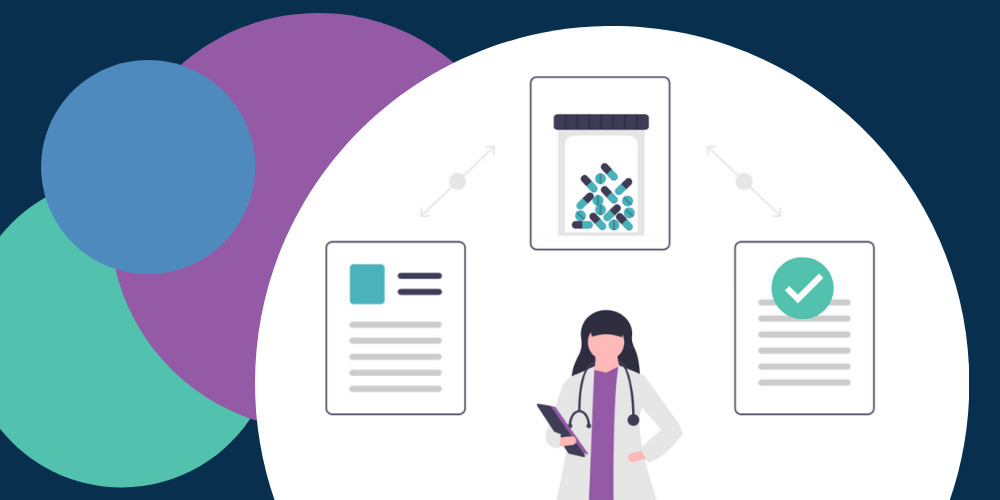 Between 2010 and 2019, the number of new drugs approved for sale increased by 60 percent compared with the previous decade, with a peak of 59 new drugs approved in 2018.
This underscores the volume of work that medical affairs leaders at pharmaceutical and biotech companies face today, including when it comes to managing the pharmaceutical publication planning process in ways that maintain desired efficiencies (or introduce them for the first time).
The details of the publication planning process are complex enough on their own. Let's explore how to minimize (or eliminate) unnecessary delays when planning, particularly when it comes to process software that also brings many other benefits.
Process software should match your particular process
There are four main challenges of optimizing pharmaceutical publication management:
1. Lack of process visibility
Medical affairs teams and publication planners require clear and easy communications in order to wrangle the complicated tasks inherent to the pharmaceutical publication process. From conception to publishing, multiple stakeholders need to be able to seamlessly collaborate and provide feedback with one another.
Due in part to this complexity, not to mention higher workloads and often faster timelines, organizations often default to contorting around opaque or inefficient information-sharing processes to get the job done in any way they can.
Software obviously helps, so long as it addresses this lack of process visibility in direct and impactful ways. That's not always the case, which is where the remainder of this list comes in.
2. Accommodating unique SOPs
In the rush to solve for inefficiencies in their publication management processes, medical affairs leaders often turn to external software solutions, whether with the goal of automating some subprocesses, increasing process visibility and smoothing information sharing, or all these things.
This is the right impulse to meet the challenges of the day, but one size does not fit all when it comes to medical publication planning software. The reason for this is that medical affairs teams across different pharmaceutical and biotech companies are not going to use the same standard operating procedures (SOPs).
Many outsourced medical affairs software solutions do not easily accommodate what makes your business and R&D processes unique. As a result, they may not be able to fully deliver on their promises to save the main headaches you may be facing in the publication planning process.
The best software solution for your medical affairs team will be the one that automates as much as possible "out of the box" but is also flexible enough to customize processes to your unique SOPs.
Understanding the importance of the impact this has on our medical affairs customers, we at BP Logix designed our low-code, customizable software to help our partners match their specific needs for not only process visibility but regulatory compliance and other key imperatives.
3. Ensuring regulatory compliance
While medical affairs leaders at your organization surely respect the importance of regulatory compliance, they probably also know the many headaches these responsibilities can introduce when balancing them with speed-to-market.
For example, consider the problem Janssen Pharmaceuticals faced with their previous publication planning solution.
Janssen was previously using Pubstrat Max, an off-the-shelf publication planning and management software the company to process publication reviews. Unfortunately, debarment checks and authorship agreements were often missing due to their manual nature, necessitating more work to avoid compliance failures. The company defaulted to hiring agencies to conduct compliance track-downs, which further increased costs. Something needed to change.
After determining that a custom-built solution would prove too expensive and too time-consuming to operate at scale, Janssen turned to the BP Logix team to build more user-friendly and compliant workflows for their pharmaceutical publication planning process using the low-code Process Director platform. The results have been outstanding.
"The new system has solved 99% of our compliance issues. With the prior system, a very high percentage of records had some sort of compliance issue resulting in us having to contract help to chase people to try to close gaps over thousands of records. That effort has been essentially eliminated."

-Dierdre Bookman, Janssen Pharmaceutical
Read the full Janssen case study to learn more about this pharmaceutical leader's experience with BP Logix.
4. Inefficient submission/review/approval process
Sticking for a moment with this same example, on top of solving their compliance issues Janssen also realized that having a low-code, customizable process automation solution like Process Director introduced other key benefits to their publication planning.
Submission time for publication review was cut from several hours to minutes, sharpening Janssen's competitive advantage by accelerating speed-to-market. This was due not only to vastly simplifying the compliance process, but by decomplexifying the entire submission, review, and approval pipeline for stakeholders.
The reasons for this include:
Easy integration with other enterprise applications
Features like "Process Timeline", which equips management with insights from process metrics, and produces a high-level view of bottlenecks and subprocess timelines
The nimbleness of low-code customization, which provides the bespoke benefits of an in-house build at much lower costs
It's worth mentioning, on that last note, that Janssen saved 50% with BP Logix over its previous process software vendor.
Streamline publication planning with PubPro by BP Logix
With competition only continuing to grow in the sector, pharmaceutical and biotech companies cannot afford to let any inefficiencies or shortcomings to their software solutions to persist. Time wasted chasing down requirements or employing manual workarounds to processes that are better served by automations – is time that could be reinvested in speed and growth.
Ready to learn more about how PubPro can help your medical affairs team(s) streamline your publication process while saving money? Schedule a demo of PubPro today, or take a self-guided tour of the solution right now: